PTI Chairman Imran Khan transferred to Adiala Jail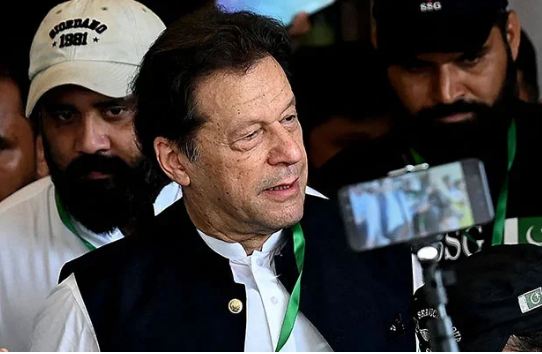 ISLAMABAD, Sep 26 (DNA): Islamabad Police took PTI Chairman Imran Khan from Attock Jail to Adiala Jail on Tuesday, following the orders of the Islamabad High Court.
The police convoy consisted of 15 vehicles, including two armoured
vehicles and one ambulance with doctors and paramedical staff.
The transfer was carried out under strict security measures to ensure
the safety of the PTI chairman, who is facing charges of terrorism on
May 9 and corruption.
Imran Khan is shifted to Adiala Jail from Attock Jail on the orders of
Islamabad High Court Chief Justice Aamer Farooq passed yesterday
(Monday).
During the case proceedings yesterday, Chief Justice Farooq remarked
that the under-trial prisoners of Islamabad were kept in Adiala Jail.
IHC Chief Justice said the PTI chairman was transferred to Attock Jail
before his sentence (in the Toshakhana case) was suspended. But now
Imran's sentence in the case has been suspended and he is an undertrial
prisoner now, the judge observed.
"According to law, the undertrial prisoners of Islamabad are kept in
Adiala Jail. Transfer him to Adiala Prison," the chief justice ordered,
inquiring further which class was given to the former premier. He said
that the court was told that the A and B classes had been abolished in
the jail facility.
The chief justice remarked that the PTI chairman deserved a better class
as he was the former prime minister of the country. He said that Imran
Khan was an educated person.
Interestingly, in a surprising turn of events, before transferring from
Attock Jail to Adiala Jail, PTI Chairman Imran Khan submitted an appeal
to the court not to move him from Attock Jail to Adiala Jail and
withdrawn his previous application to shift to Adiala Jail.
The sources said PTI Chairman Imran Khan told the court that he wants to
continue his stay in Attock Jail instead of moving to Adiala Jail, as he
had previously requested.
PTI Chairman Imran Khan who is registered as a Prisoner Number 804 in
Attock Jail also told the court that he is more comfortable in Attock
Jail and does not want to change his location.
On the instructions of Imran Khan, his lawyers submitted a new
application regarding not to transfer the PTI chairman from Attock Jail
to Adiala Jail. But, before any decision on this appeal, he has been
shifted to Adiala Jail.