PK-661 crash probe: Special ATR team to reach Pakistan in next 24 hours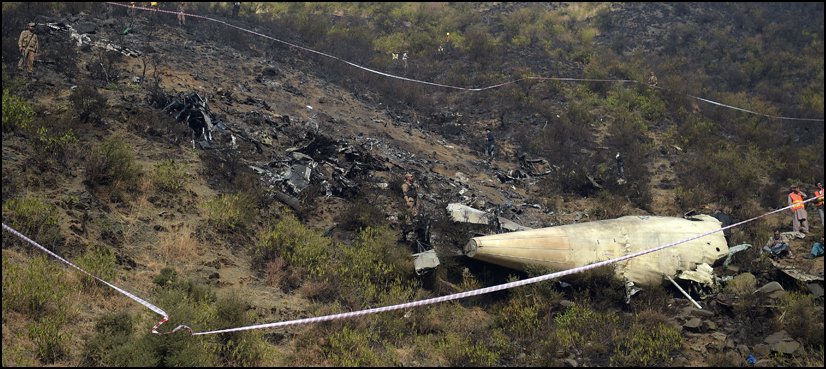 ISLAMABAD, DEC 10, (DNA) –  In a bid to give a helping hand in a recent deadly plane crash probe that killed 47 including Junaid Jamshed, a popstar-turned-Muslim evangelist, a special team of the France-based turboprop aircraft manufacturer ATR would reach the capital in the next 24 hours, officials confirmed on Saturday.
A five-member specialist team of ATR would meet the Safety and Investigation Board (SIB) of the Civil Aviation Authority (CAA) to get a breakthrough as officials began DNA of the victims.
Meanwhile, another team comprising officials of the Pakistan International Airlines (PIA) and SIB would take the 'black box', a small machine in a plane that records all the details of each flight and is useful for
 finding out the cause of an accident and the 'voice recorder' of PK-661 to France from Karachi for decoding.French embassy also assured Pakistani government of its cooperation in the plan crash investigation.
An ATR-42 aircraft carrying 47 people issued a Mayday call on Wednesday before losing radar contact and crashing into a mountain, killing everyone on board.
Engine trouble was initially believed responsible, but many questions remain, stirring new worries about the safety record of PIA.
The aircraft appeared to have suffered a failure in one of its two turboprop engines just before the crash, to be confirmed by an investigation.
SIB's team visited the plan crash site again on Saturday and gathered pieces of wreckage of the plane for examination.
The CAA on Friday had also launched a comprehensive inspection of ATR planes being flown by the national airline during which they would go through a 'shakedown' check after the tragic crash.=DNA
================