President Alvi imposed Nov 6 elections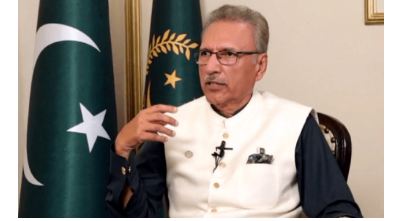 ISLAMABAD: President Dr. Arif Alvi has proposed to hold general elections on November 6, 2023. In the letter to the Chief Election Commissioner, he said that the President has the power to fix the date for the general elections within 90 days.
The President of the State in his letter said that he dissolved the National Assembly on the advice of the Prime Minister on August 9. Under Article 48(5) of the Constitution, the President has the authority to hold general elections in the Assembly within 90 days from the date of dissolution. According to Article 48(5), the General Elections for the National Assembly should be held on the 89th day after the date of dissolution of the National Assembly i.e. Monday 6th November 2023.
Arif Alvi said in a letter to Chief Election Commissioner Sikandar Sultan Raja that the Chief Election Commissioner was invited for a meeting in order to fulfill the constitutional responsibility, so that the method of implementation of the constitution and its orders can be devised. In response, the Election Commissioner took the opposite position that it is the Election Commission's authority.
He said that after the publication of the census in August, the process of constituencies is still going on and it is a mandatory condition under Article 51(5) of the Constitution and Section 17 of the Election Act. Pakistan has the same opinion.
Arif Alvi said that in order to strengthen the federation, it is agreed that the general elections of the National Assembly and Provincial Assemblies should be held on the same day. The Election Commission should follow the constitutional and legal measures to hold free and fair elections. The President dissolved the National Assembly on the advice of the Prime Minister
The letter further stated that the Election Commission is responsible to observe all the constitutional and legal measures stipulated under
As we know the President, in the case of the Punjab and the KP assemblies had also proposed a date for the election but elections in these provinces could not take place. The matter then landed in the Supreme Court, which ruled that the Election Commission must hold elections within 90 days, the apex court verdict was not honored and thus literally the Constitution was violated.
Even now, the President advice may not be heeded to. The matter therefore is likely to again land in the apex court. This is very unfortunate that the Constitutional provisions are disregarded with such an ease. If Pakistan and its people are reeling under duress and economic crises, it is because of the pick-and-choose policy.