Police officials beat, took away former human rights minister Shireen Mazari: daughter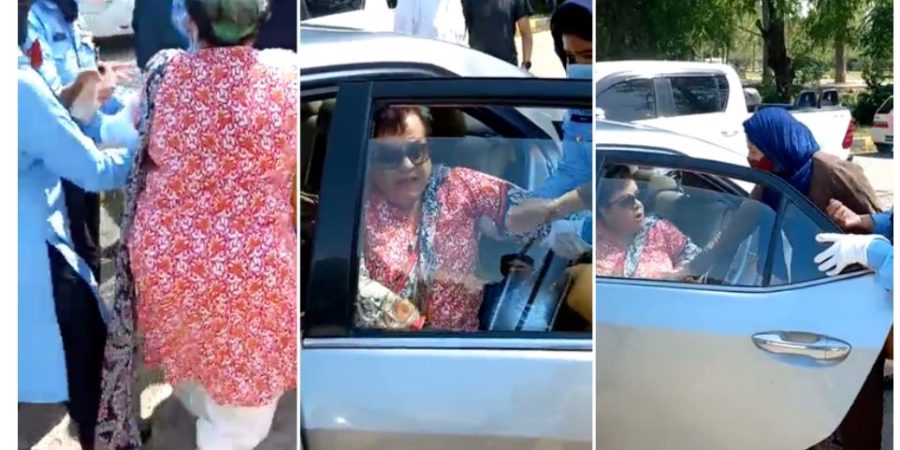 ISLAMABAD, MAY 21: Former human rights minister and PTI leader Shireen Mazari was "beaten and taken away by male police officers", her daughter Imaan Zainab Mazari-Hazir tweeted on Saturday.
"All I have been told is that Anti-Corruption Wing Lahore has taken her," she added. Officials of the Anti-Corruption Establishment (ACE) confirmed to that Shireen had been taken into custody.
In footage of her arrest which was aired by broadcasters, Shireen could be seen being dragged out of a car by female police personnel while she could be heard protesting: "No. Don't touch me."
Unidentified voices in the footage could be heard telling her that "there is no issue" and the matter could be discussed "peacefully". "You are using violence. Don't you take my phone … you b*****d," Mazari could be heard saying in response.
A 'kidnapping'
Outside the Kohsar police station, a visibly distraught Imaan gave a brief statement to the media, in which she termed her mother's detention a "kidnapping".
"She was kidnapped — I won't say she was arrested," she said, standing alongside PTI senior leaders Fawad Chaudhry and Shibli Faraz. "When someone is arrested, the police inform you on what charge [a person] is taken away for," she added.
"I don't know where she is. She has been forcibly disappeared by this government because they think women are soft targets."
She then said: "I won't spare anyone if anything happens to my mother."
She then walked away and said she would let the PTI officials speak.
When he spoke, Chaudhry agreed with Imaan's characterisation of the detention being a kidnapping. "This is an abduction. We don't know about her whereabouts. This is a grave human rights violation."
He added that the manner in which this government picked up a woman and "subjected her to violence and tore her clothes and the inhumane way she was taken [is condemnable]".
Dr Mazari is a respected academic and is well known for her services to human rights, Chaudhry said.
"This is declaration of war by the government, and if that is the case, it's a declaration of war from our end as well. Now if there has to be a fight then it will be a fight."
Meanwhile, former special assistant to the prime minister on political communication, Shahbaz Gill, asked PTI workers to reach the capital's Kohsar police station.