PM Nawaz vows to end power outages by 2018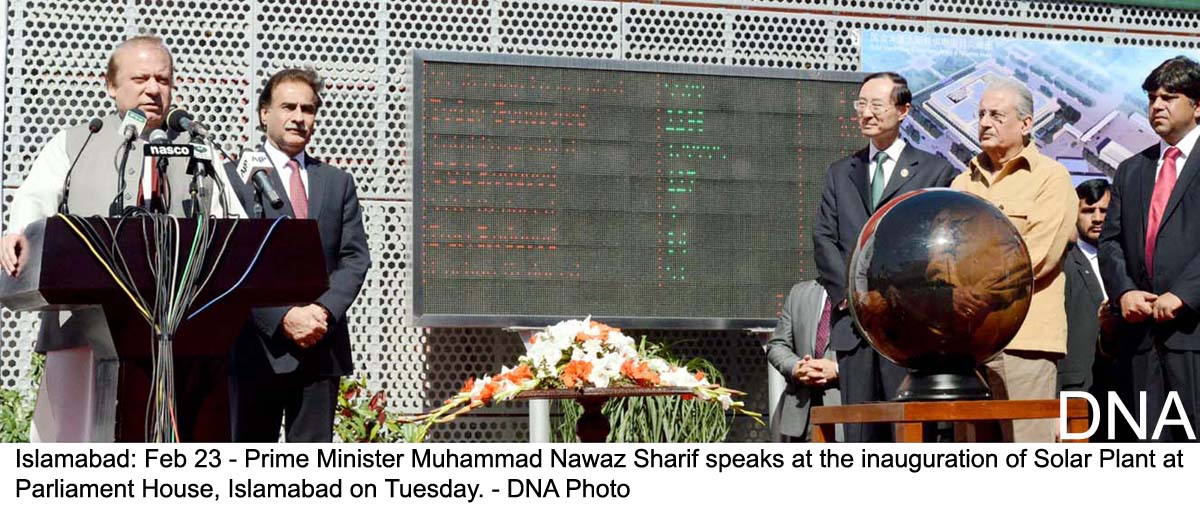 ISLAMABAD, 23 FEB (DNA) – Prime Minister Nawaz Sharif has reaffirmed the commitment to end power outages by 2018.
 Addressing a ceremony in connection with launching of one megawatt of solar power plant at the parliament house in Islamabad Tuesday, the Prime Minister said he is personally monitoring progress on various power projects launched in different sectors.
 He pointed out that some projects will be completed this year while most of them will come in the system by the end of next year.
 Nawaz Sharif also appreciated the initiative of Speaker National Assembly and the Senate Chairman for making the country's parliament the first in the world to run entirely on solar power.
 He said it is encouraging to note that the parliament's solar plant will not only meet its own energy requirements but the additional electricity will be contributed to the national grid.
 Earlier on Monday, Prime Minister Nawaz Sharif chaired meeting of Cabinet Committee on Energy at PM House.
 The meeting was attended by Minister for Finance Muhammad Ishaq Dar, Chief Minister Punjab Muhammad Shahbaz Sharif, Minister for Petroleum Shahid Khaqan Abbasi, Minister for Planning Ahsan Iqbal, Minister for Railways Khawaja Saad Rafique, Minister for Water & Power Khawaja Muhammad Asif and other senior officials.
 Federal Secretary Water and Power briefed the meeting that Year 2015 remained the most stable as well as the best period for generation of power during the last ten years due to lowest line losses in terms of technicalities and recovery. There was 5.8% reduction in the line losses during the Year due to better monitoring and robust strategy to eliminate corruption and leakages, the Secretary informed the meeting.
 The Prime Minister was informed that Rs. 51/- billion increase was noticed in recoveries while Rs.10/- billion were saved due to decrease in the line losses. Due to better generation cost monitoring, Rs. 57/- billion were saved, added Secretary Water and Power.
 The meeting was informed that fuel stocks in the country are in excellent shape; Peak generation of power was 17000 MWs during last Year as a result of better efficiency and management. Year 2015 was the only year that witnessed the start of facilitation to new IPPs that will generate 12000 MWs of electricity, the meeting was informed.
 The Prime Minister was also briefed about the completion timelines of different power projects to be completed in Winters of 2016 and Summers as well as Winters of 2017. The meeting was assured of active and available 9090 MWs addition to the National Grid by winters 2017.
 Nawaz directed for meeting the completion timelines of different ongoing power projects across the country and said that he will monitor the progress on the projects on regular basis.
 Significant addition of power to the National Grid will not only minimize load-shedding in different parts of the country but will also contribute to economic growth and infrastructural development of the country, the Prime Minister stated. DNA