PM for visa ease with Uzbekistan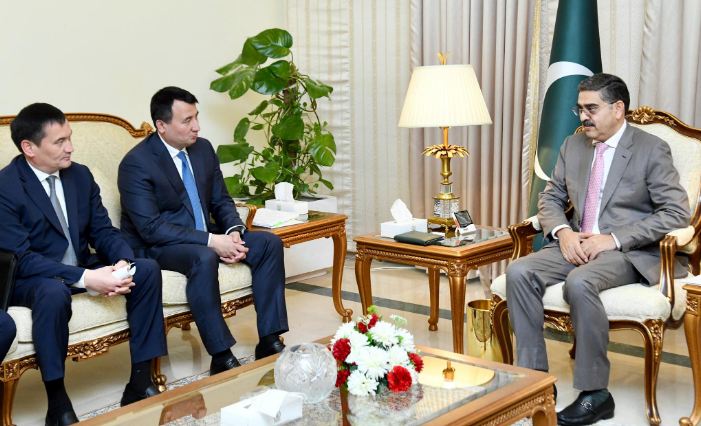 Kakar also appreciated the holding of the First Trilateral Meeting of the Commerce Ministers of Pakistan, Uzbekistan and Afghanistan in Islamabad
Ansar M Bhatti
Islamabad: Caretaker Prime Minister Anwaar-ul-Haq Kakar emphasized on Tuesday the pivotal role of streamlined visa processes, enhanced banking mechanisms, and reciprocal warehousing capabilities to catalyze the surge in trade between Pakistan and Uzbekistan.
During a meeting with the Deputy Prime Minister of Uzbekistan, Dr. Jamshid Khodjaev Abdukhakomovich, and a accompanying delegation, the prime minister conveyed optimism about the potential for the business communities of both nations to swiftly attain the ambitious bilateral trade target of US$ 1 billion.
Recognizing the significance of fostering a conducive environment for cross-border trade, the leaders deliberated on the necessity of simplifying visa acquisition for entrepreneurs, facilitating smoother financial transactions through improved banking channels, and establishing reciprocal warehousing facilities to streamline logistics. The deputy prime minister of Uzbekistan, along with a seven-member delegation, is on an official visit to Pakistan.
Prime Minister Kakar welcomed the Uzbek deputy prime minister and his delegation to Pakistan and recalled his recent meeting with President of Uzbekistan, Shavkat Mirziyovev, on the sidelines of the 16th ECO Summit held in Tashkent from November 8-9, 2023.
He expressed satisfaction at the pace of bilateral engagements between the two countries especially in the areas of trade, defence and connectivity.
He also appreciated the holding of the First Trilateral Meeting of the Commerce Ministers of Pakistan, Uzbekistan and Afghanistan in Islamabad.
The three sides also established a trilateral working group to discuss customs, logistics, trade promotion, tariffs, TIR procedures, etc.
Showing satisfaction at the outcome of the trilateral meeting, the prime minister hoped that the trilateral mechanism would boost trade relations between the three countries.
Prime Minister Kakar underlined the need to continue momentum of people-to-people exchanges.
Deputy Prime Minister Khodjaev thanked the prime minister for the warm hospitality extended to him and his delegation.
He briefed the prime minister about fruitful meetings with the business community of Pakistan including the banking and logistics sectors.
He expressed the hope that both sides would continue active engagement for the timely completion of the Uzbekistan-Afghanistan-Pakistan Railway Project.
The Uzbekistan delegation included Minister of Transport, Ilkhom Makhkamov Rustamovich, Deputy Minister of Investment, Industry and Trade, Badriddin Abidov, Deputy Foreign Minister, Bobur Usmanov, Deputy Chairman of State Security Service, Maj. General Farukh Mukhtarov and Ambassador of Uzbekistan in Islamabad Oybek Arif Usmanov.
The Pakistan delegation included Minister of Commerce Gohar Ijaz as well as secretaries of commerce, Board of Investment and other senior officials.