PM calls for increasing Pak-Iran trade to $5 billion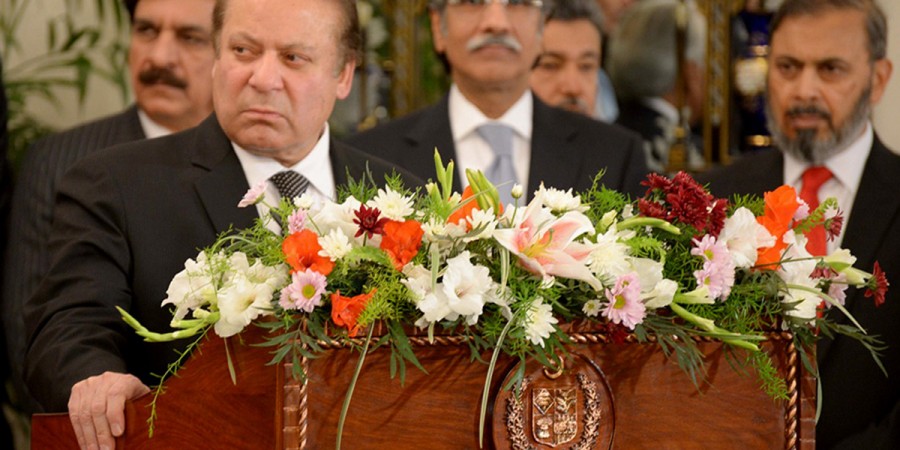 ISLAMABAD, March 26 (DNA): Prime Minister (PM) Nawaz Sharif on Saturday said that Pakistan and Iran altogether can move the volume of trade up to five billion dollars.Addressing a joint Pakistan-Iran business forum in Islamabad, PM Nawaz Sharif stated that both states have turned their mutual relations into economic partnership which will boost the development.
Nawaz Sharif said both countries also decided to open two additional crossing points along their border to encourage trade.
"Over past three years Pakistan's economic has emerged out of crisis and extremism. We are now more ardent in enhancing financial ties with the neighboring countries", said PM Nawaz.
"Purpose of business forum is to promote trade between Pakistan and Iran while attainment of regional peace is Pakistan Muslim League-Nawaz's (PML-N) first priority", assured Nawaz Sharif.
During the meeting, he said that Pakistan and Iran have simultaneously come out of the period of challenges and calamity.
In the end, the premier urged: "Let us move forward and share the message of peace and prosperity to the world."
Talking at the forum, Iranian President Hassan Rouhani thanked Pakistan for the hospitality and appreciated its stance on trade.
"Pakistan's security is akin to Iran's security whereas economic development of Pakistan is infact economic development of Iran," told the President.
He said that the strengthened ties between the both countries will assist young generation to work with devotion.The president pledged to help Pakistan to improve its tourism, infrastructure, construction of dams and power crisis.
Federal Minister for Commerce Khurram Dastgir Khan said Pakistan and Iran are enjoying historic and cordial relations. He said Pakistan wants to provide all out assistance to the Iranian traders.
He said leadership of both the countries is committed to enhance their bilateral trade volume up to five billion dollars in the next five years. DNA