PIDE conference concludes with a powerful tribute to remarkable women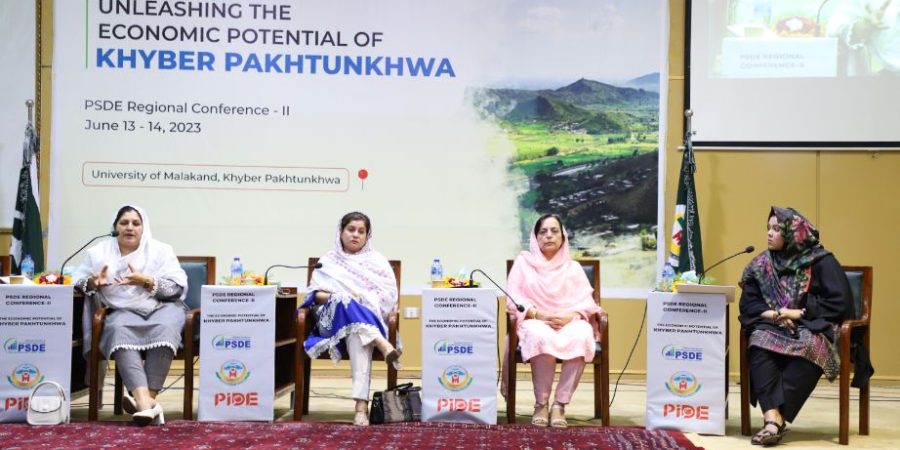 ISLAMABAD, JUN 14 /DNA/ – conference concludes with a powerful tribute to remarkable women who are catalysts for change, empowering others and fostering hope for future generations. Shattering stereotypes and paving the way for Pashtun women to dream bigger and reach for the stars.
Today was the 2nd and concluding day of the conference. The day started with the Session titled: Breaking Barriers: Women's Journey towards Equality and Empowerment; the Session was dedicated to celebrating the courage, resilience, and determination of these women who have challenged traditional societal roles and made their own mark.
The panelists were inspiring women who have become catalysts for change, empowering others and fostering a sense of hope for future generations by amplifying the voices of incredible ladies. They have shattered stereotypes and paved the way for future generations of Pashtun women to dream bigger and reach for the stars. Their relentless efforts have not gone unnoticed and have served as an inspiration to many.
This Session aimed to raise awareness and promote dialogue, inspiring individuals and communities to break down all the barriers and create a more inclusive society for women. Women are our pride. They never tire or complain but are always ready to contribute to the community.
Speaking at the occasion, Ms. Shad Begum, Ms. Kainat Zia, Ms. Shagufta Malik, a Women Parliamentarian, Dr. Feriha Peracha, and Dr. Noor Jehan, Ex-VC, Swabi said that the KP Women are no exception to this and have repeatedly proven that they are not behind in any count. They have shown exceptional resilience and strength in the face of adversity and have persevered to impact their communities positively. As we celebrate the achievements of Pashtun women, we must also acknowledge the challenges they continue to face. Our society is responsible for creating an environment encouraging and supporting women to pursue their dreams and aspirations.
In another session titled "Sustainable Tourism is the way forward for a better tomorrow," panelists said that as the tourism industry continues to grow, it is essential to ensure that it is sustainable and that the impact on the environment and local communities is minimal. To achieve this, we must focus on several areas, including human resources, academia, women's participation, and poverty alleviation.
They further said that human resources are the backbone of any industry, and tourism is no exception. Tourism businesses must invest in their employees and provide them with training and development opportunities. This will not only help to improve the quality of service but also increase employee satisfaction and retention. Investing in human resources can create a more sustainable tourism industry that benefits everyone involved.
Academia also has a significant role to play in the development of sustainable tourism. Research and education are crucial to promoting sustainable tourism practices and developing new sustainable tourism models. Academic institutions can generate knowledge, raise awareness, and provide technical assistance to tourism businesses. By working together, academia and the tourism industry can create a more sustainable future for everyone. Women's participation in tourism is another critical area that needs attention.
Women have traditionally been underrepresented in the tourism industry, particularly leadership roles. However, women's participation in the tourism industry can have significant economic and social benefits. We can create a more sustainable and inclusive tourism industry by empowering women and providing them equal opportunities. Poverty is also a significant hurdle in the development of sustainable tourism. Many tourism destinations are located in developing countries, where poverty is prevalent. Sustainable tourism can help to alleviate poverty by creating jobs, stimulating local economies, and supporting community development. We can create a more equitable and just world by prioritizing sustainable tourism.
Two thought-provoking sessions, the intense Hardware vs. Soft Skills debate, highlighted the importance of balancing technical expertise with interpersonal abilities. And the discussion on embracing the bio-economy was also taken place.
Dr. Durre Nayab, a renowned researcher, expert, and advocate for youth empowerment, took center stage to facilitate an engaging and dynamic session titled "Youth Voices: Unleashing the Potential of the Next Generation." The Session, held as an Open Mic Session, provided an invaluable opportunity for young individuals to actively participate and express their thoughts on the recently concluded two-day conference.
The Session served as a platform for the youth to directly question and comment on the ideas, discussions, and themes explored during the conference. With passion and enthusiasm, they fearlessly shared their perspectives, concerns, and visions for the future. Dr. Durre Nayab skillfully guided the Session, ensuring every participant had a voice and their contributions were valued.
One of the highlights of the Session was the presence of experts from various fields attending the conference. These experts generously lent their knowledge and experience to answer the queries raised by the youth. The symbiotic exchange between the next generation and seasoned professionals fostered a sense of mentorship and collaboration, bridging the gap between generations and inspiring meaningful dialogue.
Dr. Durre Nayab commended the courage and intellectual curiosity of the young individuals who graced the stage. Their active participation and thought-provoking questions were a testament to the untapped potential of the next generation. The Session successfully empowered these young minds, amplifying their voices and instilling confidence to effect positive change in their communities.
The "Youth Voices: Unleashing the Potential of the Next Generation" session enriched the conference experience and provided a powerful reminder of the importance of engaging young voices in decision-making. We can pave the way for a brighter and more inclusive future by actively involving youth in discussions and listening to their perspectives.