Indonesia to start direct flights from Pakistan: Adam M. Tugio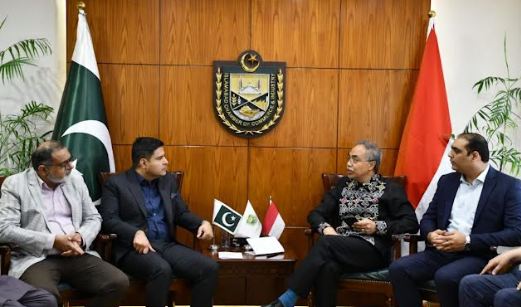 Islamabad, JUN 14 /DNA/ – Indonesian Ambassador Adam M. Tugio has said that Indonesia with a population of 25 million and D8 countries with a population of 1.2 billion Muslims are big markets for Pakistan. Pakistan and Indonesia should work together to increase trade links to the D8 market. Indonesia is trying to start direct flights with Pakistan and talks are going on with the Civil Aviation Authority in this regard. It is expected that by December this year, direct air connectivity will be established between the two great countries of the Muslim world. By setting up an Indonesian warehouse in Gwadar, it wants to gain access to Pakistan and Central Asia. There are vast opportunities for improvement of trade relations and investment between the two countries. He expressed these views yesterday during a meeting with Islamabad Chamber of Commerce and Industry President Ahsan Zafar Bakhtawari and other officials.
Speaking on the occasion, President Islamabad Chamber Ahsan Zafar Bakhtawari said that ASEAN is a huge market for Pakistan. But despite all its efforts, Pakistan has not been able to get the status of a full dialogue partner from a sectoral partner. We wish that Indonesia, being a major ASEAN country, plays its role in this regard. He accepted the ambassador's invitation to participate in the trade exhibition held in Indonesia in October and said that the delegation of Islamabad Chamber will fully participate in this exhibition. He further said that the business community wishes to have a free trade agreement with the countries of the ASEAN organization so that both countries get benefits from the long-standing relations established with Pakistan and ASEAN.
Speaking on the occasion, Senior Vice President Faad Waheed said that the role of the ambassador is very important in bringing Pakistan and Indonesia closer at the commercial level, and he has performed excellently in this regard by connecting with the business community. Vice President Engineer Azhar Salam said that Pakistan and Indonesia should increase cooperation in the field of research, the increase in scholarship for Pakistani students is welcome. In the meeting, former president FPCCI Zubair Malik, former president ICCI. Zafar Bakhtawari, Ashfaq Chatha, Muhammad Ali, Khalid Chaudhry, Chaudhry Wasim, Ameer Hamza, Dr. Usman and others also participated.