Information Minister Pervaiz Rasheed resigns over a controversial news story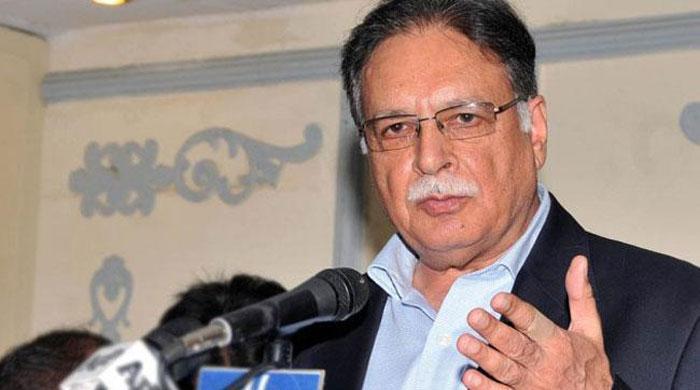 Information Minister Parvaiz Rasheed has resigned from his position as Minister for Information, Broadcasting and National Heritage.
A statement issued by the Prime Minister's office said: "Evidence available so far pints to a lapse on part of the information minister, who has been directed to step down from the office to enable holding of an independent and detailed inquiry."
The development comes after the publication of Dawn's story "Act against militants or face international isolation, civilians tell military", which reported details of a high level civil-military meeting discussing the issue of Pakistan's banned outfits.
The report of the high-profile security meeting has forced the government to initiate an inquiry to identify the person responsible for its leak.
Sources also said that the portfolio of Parvaiz Rasheed was taken away after a preliminary inquiry was launched by Interior Minister Chaudhry Nisar Ali Khan. They added that the premier has ordered a formal inquiry as to whether Parvaiz Rasheed was involved in the leak from the meeting.
Speaking to media, PM spokesperson Musadiq Malik said, " A committee has been formed for the investigation of Dawn's story and investigations have entered the final phase."
Parvaiz Rasheed was responsible for the Information Department and he is temporarily suspended from his post until investigations conclude, Malik added.
"The committee was formed because no conclusive evidence has come forth. The details are with the committee Ch Nisar was heading," he said, adding that a press conference will be held by the interior minister tomorrow (Sunday).
"The investigation report will only come when the investigation is over. The investigation is being done with all sobriety, all responsible will be punished."
A statement issued today by the PM House contains details of the inquiry committee: "An inquiry committee including senior officers of ISI, MI and IB is being formed by the government to apportion the blame, identify interests and motives and expose all those responsible for this episode of stern action in the national interest."
The Inter Services Public Relations (ISPR) said earlier this week that Finance Minister Ishaq Dar, Interior Minister Ch Nisar and Chief Minister Punjab Shahbaz Sharif called on the army chief to brief him on the progress of the investigation and recommendations related to the story. The meeting was also attended by DG ISI General Rizwan Akhtar.
It may be added that the Prime Minister's Office had rejected the story, but the military maintained the story had been "leaked" and demanded a probe into the matter as it viewed the leak as a breach of national security.
Journalist Cyril Almeida's name was also placed on the Exit Control List (ECL) after the publication of the story but his name was later removed by the Interior Ministry as a "goodwill gesture".