Palestine thanks Pakistan for supporting human rights council resolution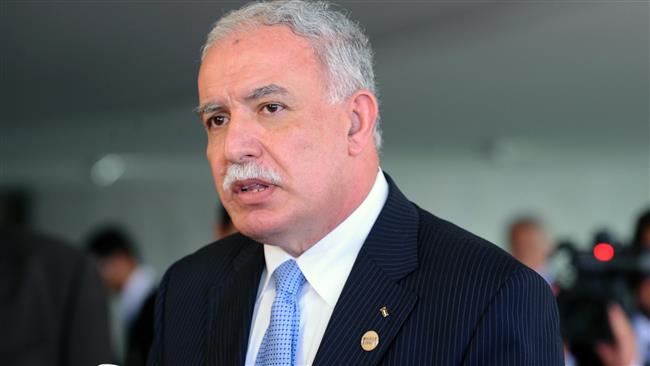 ISLAMABAD, JUL 10 (DNA) – Dr. Riad Malki, Minister of Foreign Affairs of the State of Palestine has thanked MR. SARTAJ AZIZ, Advisor to Prime Minister on National Security and Foreign Affairs, thanking Pakistan, through a letter, for supporting the resolution of the Human Rights Council in its 29th Session on "Ensuring accountability and justice for all violations of International law in the Occupied Palestinian Territory, including East Jerusalem", Pakistan voted on behalf of the Organization of Islamic Cooperation (OIC) in favour of the resolution, where 41 out of 47 members voted 'Yes' in favour of the resolution, 5 abstained including India and 1 USA voted 'No'.
This resolution condemned all violations of human rights and International Humanitarian Law, and appalled the widespread and unprecedented levels of destruction, death and human suffering caused, it stressed the urgency of achieving without delay an end to the Israeli occupation that began in 1967.
The resolution called upon the parties concerned to cooperate fully with the preliminary examination of the International Criminal Court and with any subsequent investigation may be paid, that all States to promote compliance with human rights obligations and all High contracting parties to the Fourth Geneva Convention to respect, and to ensure respect for, International Humanitarian Law in the occupied Palestinian territory.
Palestinian Foreign Minister Stated that Palestine is fully committed to its responsibility and the duty as a principled member of the International Community to uphold these universal values, and will continue stressing that the United Nations Members in general, and Members of the Human Rights Council in particular, must uphold their responsibilities in this regard without exceptions or double standards.
He reiterated that Palestine looks forward to working jointly with partners around the World to ensure respect for International Law, especially as the Palestinian people continue to endure negation of their inalienable rights and to suffer from the absence of accountability for blatant violations of International Law by Israel, the occupying power.
Walid Abu Ali, Ambassador of the State of Palestine also thanked the Government of the Islamic Republic of Pakistan, and on behalf of the Palestinian people, conveyed appreciation for Pakistan's principled position and support, and said that it's an extension of Pakistan's ongoing support towards Palestine and its people, that they receive at all the International forums of the World. =DNA
=============