Pakistan, Azerbaijan share views on global and regional isues: PM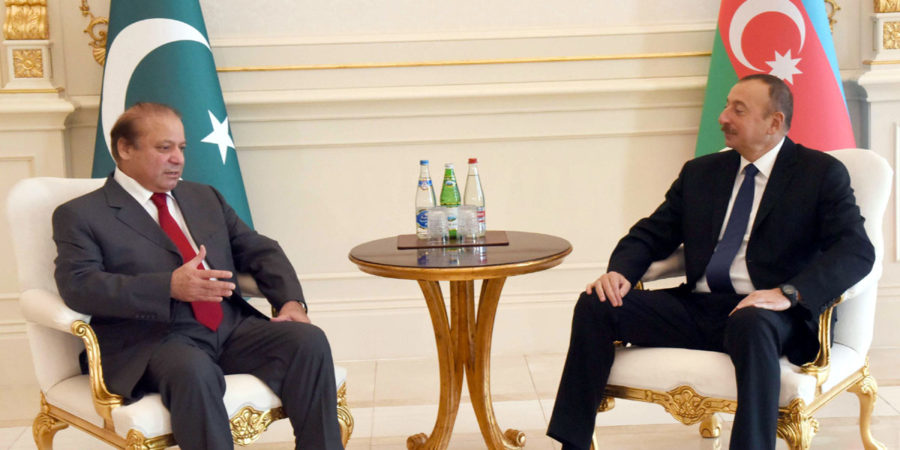 BAKU, October 14 (DNA): Prime Minister Muhammad Nawaz Sharif Friday said that Pakistan and Azerbaijan shared similar perceptions through congruent ideals.
"We believe that all the regional and global issues must be resolved through dialogue and peaceful means within the framework of international law, "he said in a joint press stakeout with President of Azerbaijan Ilham Aliyev.
Prime Minister Sharif said they remained advocates of "peaceful neighbourhood' and 'peace for development' in spite of naked aggression from others.
However, the courage to remain steadfast to the principles of peace must never be mistaken for weakness, he stressed.
The Prime Minister said the mutual support between Pakistan and Azerbaijan on the Jammu and Kashmir Nagorno Karabakh testified to the close understanding and convergence of common views.
Reiterating Pakistan,' stance over Nagorno Karabakh, Prime Minister Sharif called for complete return of occupied Azeri lands, withdrawal of Armenian forces and return of DIPs and refugees.
The Prime Minister also appreciated Azerbaijan's support for Pakistan on the Jammu and Kashmir dispute which called for its resolution through dialogue and peaceful means in accordance with the UN Security Council resolutions.
The Prime Minister said mutual support would remain firm between two countries till final resolution of the outstanding issues.
The prospects of development and progress of both countries as well as the peace and security of the region remained hostage to these conflicts, he added.
Referring to signing of a Joint Declaration, the Prime Minister said it depicted their resolve to enhance and diversity the already dynamic relations between two countries.
"We noted with satisfaction that our political relations are steadily growing," he said, adding that both countries agreed to further strengthen these relations in diverse fields.
Prime Minister Sharif observed that their bilateral trade currently didn't commensurate with actual potential and needed to be revitalized.
He also lauded the socio-economic development and progress of Azerbaijan under the dynamic leadership of Aliyev.
Expressing his gratitude to the warm and generous hospitality extended to him and his delegation, the Prime Minister said his visit to Baku, provided them with an opportunity to reflect upon common goals of progress, prosperity, development, connectivity and integration of the entire region.
Special Advisor to PM on Foreign Affairs Tariq Fatemi, advisor to PM Irfan Siddiqui and other members of the delegation were also present on the occasion.
Referring to his recent first ever visit to Baku, the Prime Minister said it had a semblance of home for all Pakistanis and cited the historic building of Multan Serai in the very heart of the city, which bore testimony for the long historic ties.
He said being bearers of such traditions, the leadership of the two countries agreed to effectively channelize their energies in increasing connectivity leading to greater regional integration.
Speaking on the occasion, Azerbaijan President Ilham Aliyev said Pakistan was a close friend of Azerbaijan as it had supported his country on Nagorno Karabakh issue.
He said they supported Pakistan's stance over Jammu and Kashmir dispute and the implementation of UN Security Council resolutions which were unfortunately remained unfulfilled.
 He said such stance by the leadership of two countries also united them and the people of Azerbaijan were grateful for Prime Minister Sharif who during his past tenure had supported them on Nagorno Karabakh issue.
President Aliyev said, "During today's meetings, they also agreed to further boost their economic and investment ties especially export sector through a mechanism."
Pakistan had rich experience in the pharmaceutical sector and Azerbaijan would like to explore cooperation in this regard.
He said they were keen for joint military training, besides cooperation in the defence production field. The President hoped that electronic visa system would be activated to facilitate tourism between the two countries.=DNA