Pak Army summons Gen (r) Asad Durrani to clarify position over 'damaging' book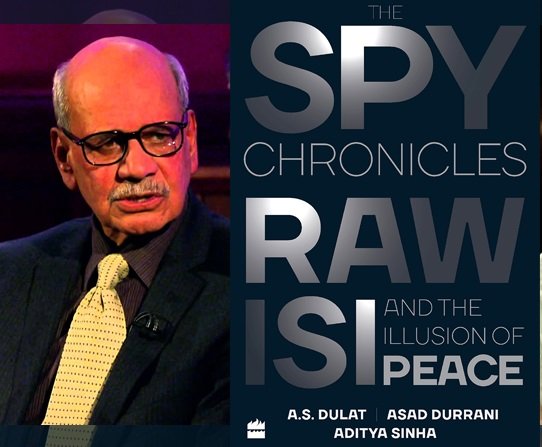 RAWALPINDI, MAY 26 (DNA) – Lieutenant General (retd) Asad Durrani, the former chief of the Inter-Services Intelligence (ISI), has been summoned to the Pakistan Army's General Headquarters (GHQ) to explain his position over his book 'The Spy Chronicles', co-authored with former Indian spy chief.
According to Major Asif Ghafoor, the Director General of Inter-Services Public Relations (ISPR), Durrani violated military's code of conduct regarding his views in the sensational book; he has been asked to turn up at the General HeadQuarters on May 28th.
The military's spokesperson clarified that the code of conduct applied to both serving and retired military personnel.
The book in question is written by General Asad Durrani and former chief of Indian Research and Analysis Wing (RAW), A S Dulat and contains a plethora of sensational disclosures about the security discourse of South-Asia and other issues of prominence.
Durrani, who served as the chief of Pakistan's premier intelligence agency from August 1990 till March 1992, also detailed in the book how his son was rescued by RAW after he was detained in Mumbai in 2015.
The book has discussed important issues between the two nations. It also sheds light on Kargil Operation, Abbottabad Operation against Osama bin Laden, the arrest of Indian spy Kulbhushan Jadhav in Pakistan, Hafiz Saeed, Kashmiri freedom fighter Burhan Wani.
The former spy czar also hinted that ISI knew about the whereabouts of Osama Bin Laden (OBL) and allowed CIA to launch an operation in Abbottabad to take out the mastermind of Twin Towers tragedy.
Durani made these comments while answering a question asked by journalist Aditya Sinha, the moderator of the conversation between Two Ex-Chiefs of respective spy agencies.
"I've been on TV with my own assessment, whether unko chhupa ke rakha hua hain, or whether at some stage we knew, we had the upper hand. At some stage the ISI probably learnt about it and he was handed over to the US according to a mutually agreed process. Perhaps we are the ones who told the Americans isko le jao, we are going to feign ignorance," Shared Durrani in his book, "If we denied any role, it may have been to avoid political fallout. Cooperating with the US to eliminate a person regarded by many in Pakistan as a 'hero' could have embarrassed the government," he said.