Online Course showcases modern Indonesia for mutual learning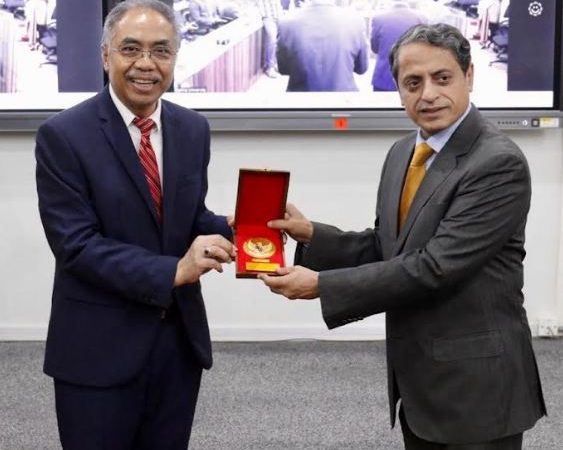 Ambassador Adam M. Tugio says that the OIP brings a wealth of Indonesian experiences and similarities to share with the participants
DNA
ISLAMABAD: The Indonesian Embassy and Bahria University are organizing an International Online Internship Program (OIP) featuring prominent experts and scholars from Indonesia to showcase modern Indonesia, share views and explore mutual learning opportunities for further development of ties between Indonesia and Pakistan.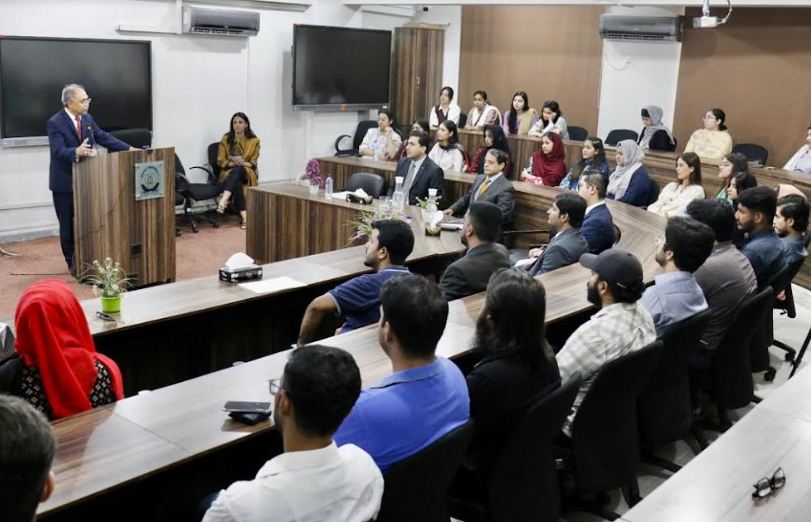 The OIP was inaugurated virtually by Dr. Teuku Faizasyah, Indonesian Deputy Foreign Minister for Public Diplomacy. Speaking on the occasion, the Chief Guest said that the OIP applies a two way learning approach, firstly it provides a platform to analyze Indonesia from various aspects and secondly it allows participants to explore potential for cooperation from the current state of bilateral relations. "Through this program we hope to enrich participant's knowledge about Indonesia and at the same time we hope that this program will also stimulate exchanges of views on the topics of discussion among scholars, students and people in general', added the Deputy Minister.
Dr. Teuku Faizasyah further said that our two countries have many similarities being the largest Muslim population and shared history of colonization and today both strive for economic and social betterment of its citizens respectively. "Let us not forget that in 1959 Indonesia and Pakistan together with Sri Lanka, Myanmar and India initiated the Asian African Conference to advocate the values of solidarity friendship and cooperation. These values remains relevant in the context of today's geo politic and geo economic landscape where we face global competition among major powers".
It is therefore, he added, important for two countries to strengthen our cooperation amidst these challenges and continued to invest in efforts to strengthen mutual understanding and people to people between our two countries. He hoped that OIP is one the path to achieve this goal and offered selected OIP alumni to participate in the public diplomacy programs such as Indonesia-ASEAN cultural scholarship and friends of Indonesia.
Director General Bahria University, Islamabad, Rear Admiral Zakaur Rehman in his welcome remarks expressed his gratitude to the Chief Guest, Dr. Teuku Faizasyah for his virtual presence at the OIP's inaugural session. He commended Ambassador Tugio's initiative of organizing the OIP which reflected the level of Indonesian Ambassador Interest in furthering the fraternal ties between Indonesia and Pakistan through education. He urged the participants to fully benefit from the Indonesian panelists discussion on diverse range of topics to enhance their understanding of emerging Indonesia's contemporary dynamics.
Speaking on the occasion, Indonesian Ambassador Adam M. Tugio said that the OIP brings a wealth of Indonesian experiences and similarities to share with the participants. He said that beside the religious and cultural similarities the OIP will also highlight Indonesia's great struggle to overcome the successive and multiple enormous challenges including political and economic crises that were quite comparable in nature what Pakistan is experiencing these days.
Ambassador Tugio mentioned that in Pakistan Indonesia was synonymous to its founding father President Sukarno, Palm Oil and Bali. "Indonesia was much more than that because it is also a third largest democracy, a global emerging economy of inclusive growth and a pluralistic society with the largest Muslim population in the world", added Tugio.
The envoy expressed his pleasure in sharing that Pakistani students were among the highest recipients of scholarships in Indonesia in the last three years. He expressed hope that the OIP will attract more students from Pakistani to study about modern Indonesia and in Indonesia as well.
At the session-I, Dr. Abdul Gaffar Karim from Gajah Mada University, Yogyakarta, on the topic of "Discourse on Islam and Nationalism in Indonesia" gave an insightful view on how discourse about Islam and nationalism has continue to resonate in modern Indonesia.
He discussed the ongoing debate on Islam and nationalism in Indonesia, a country with the world's largest Muslim population.
"Despite not being an Islamic state, Indonesia's 1945 constitution and Pancasila ideology ensure freedom of religion for all faith believers", added Dr. Gaffar Karim. Underscoring Indonesia's diversity and pluralism, he further said that balance between Islam and nationalism remains a subject of constant debate.
The Online Internship Program which spans over six weeks will have several dedicated sessions to ensure focused and productive engagement between participants and the speakers on various aspects of Indonesia who joint online from Indonesia. Session 2 will be held on Thursday (20/08) focusing the Indonesia's journey to democracy.