Non-implementation of UNSC resolutions on Kashmir travesty of law and morality: Lodhi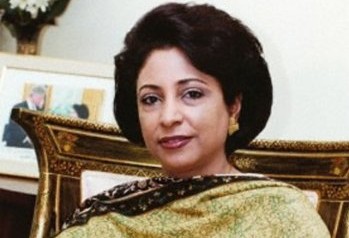 ISLAMABAD: Pakistan's Permanent Representative to the United Nations (UN) Maleeha Lodhi at the UN said that the non-implementation of long-standing UN Security Council (UNSC) resolutions on Kashmir were a travesty of law and morality.Drawing attention to the plight of the Kashmiri people, who have long been denied their right of self determination, she called for the urgent resolution of the issue in accordance with UNSC resolutions. Speaking in a debate on the "Right to Self-determination and Elimination of Racism", Lodhi told the General Assembly's Third Committee that the continued suffering of Kashmiri women, children and men "should shake the collective conscience of the international community", a statement issued by Pakistan's mission to the UN said.
Ambassador Lodhi underlined the urgent need to fulfil the long-held promise of self-determination to the Kashmiri people and said that this was indispensable to establishing lasting peace and stability in South Asia.
She recalled Prime Minister Nawaz Sharif's statement during the UN General Debate, in which he reiterated the call for a peaceful resolution of the Kashmir dispute, in accordance with the aspirations of the Kashmiri people.
"Prime Minister Nawaz Sharif also stated that the Kashmiri people were an integral part of the dispute and consultations with them were essential to reach a peaceful settlement," she said, adding that he had characterised the Kashmir dispute as "the most persistent failure of the United Nations".
UNSC resolutions on the disputed region of Kashmir, the Pakistani envoy said, pronounced that the future status of the region would be decided through the democratic means of "a free and impartial plebiscite under UN auspices".