Nisar inaugurates E-Passport System for overseas Pakistanis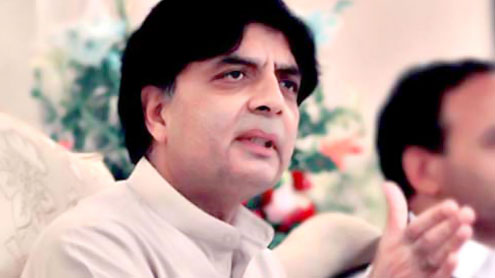 ISLAMABAD, October 13 (DNA): Interior Minister Chaudhry Nisar Ali on Thursday announced the launch of E-Passport System for overseas Pakistanis.
Addressing a news conference in Islamabad on Thursday, the Interior Minister said the overseas Pakistanis will now be able to get their passports renewed at their residences abroad.
The Interior Minister said e-service will be introduced in Pakistan within six months, and it will be ensured across the country in the next two years. The e-service will help check frauds in issuance of passports besides easy renewal of passports.
Chaudhry Nisar Ali Khan said the government is making efforts to provide people the best services to acquire national identity card and passport in an easy way. He said passport offices will be established in every district of the country.
To a question about the controversial news regarding a high-level meeting published by an English daily, the Interior Minister said a committee has been constituted to probe this national security issue.
He said the representatives of Council of Pakistan Newspapers Editors and All Pakistan Newspapers Society have been called for a meeting tomorrow to discuss the matter. He said the reporter's name was put on the Exit Control List because he was scheduled to leave the country the very next morning, and his presence in the country was necessary for investigation.
The Minister said the incorrect news provided an opportunity to enemies of Pakistan to level allegations against the country.
To another question, the Minister said Pakistan would pursue the cases against Altaf Hussain in Britain. However, he said, the relations between Pakistan and Britain would not be affected by the matter.