India has 'closed all doors' to Pakistan's dialogue offer: Mushahid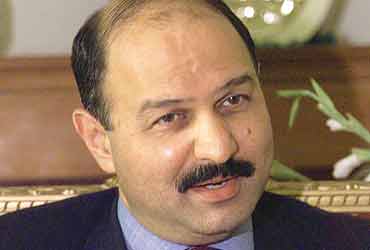 UNITED NATIONS, October 13 (DNA): Pakistan wants to hold dialogue with India on all outstanding issues, including Kashmir, but New Delhi has 'closed all doors' to talks between the two countries, Prime Minister's Special envoy Senator Mushahid Hussain has said.
Speaking to the United Nations Corps of Correspondents, he said that the only way forward to de-escalate the current tensions was through dialogue and discussions. "We should start talking to each other, rather than at each other."
Senator Hussian, along with a member of National Assembly, Dr. Shezra Mansab Ali, met reporters at a luncheon after completing their engagements at the United Nations. Their trip to Washington and New York was part of a Pakistani diplomatic offensive to highlight the Kashmir dispute and to counter India's version of the latest flare-up in the disputed region.
Pakistan's UN Ambassador Maleeha Lodhi, who hosted the event, said Pakistan was ready to engage India, bilaterally, regionally and internationally. Pakistan wants the Indian atrocities in Kashmir to stop and talks between the two countries to begin to address the serious issues between the two countries.
Dr. Shezra Mansab Ali detailed the killings of innocent and peaceful Kashmiri demonstrators and injuries caused by the use of brute force by Indian occupation forces. She also told reporters that the use of pellet guns, blinding hundreds including children, women and men, was a particularly barbaric manifestation of the use of force.
At the UN, the Envoys called on President of the General Assembly, Peter Thompson, whom they handed over a well-documented dossier concerning human rights in Indian Occupied Kashmir. They also met Jefferey Feltman, the under-secretary general, as well as senior officials from the Department of Peacekeeping Operations. They are returning home tomorrow.
Senator Hussain said the deteriorating situation in Indian Occupied Kashmir posed a "grave threat to regional peace and security", and the U.N. must fulfill its responsibility and allow the Kashmiri people to exercise their right to self-determination through a plebiscite.
The war hysteria stoked by India, he said, was aimed at distracting the world attention from its brutal action to suppress the legitimate demand of the Kashmiri people for self- determination. India was trying to scapegoat Pakistan for its push for Kashmiri people's self-determination by linking it to cross-border terrorism.
He stressed that the ongoing movement in Kashmir was indigenous and was sparked by the extra-judicial killing of youth leader and icon, Burhan Wani. The Indian security forces were using brutal methods to stamp out the movement but failed to break its growing momentum.
India has closed all doors to bilateral dialogue, scuttled a regional summit (SAARC) and at the international level, refused to implement (UN) Security Council resolutions, Mushahid Hussain added.
Replying to questions, Hussain said Pakistan expected the United Nations Human Rights Council to send a fact-fining mission to the Indian Occupied Kashmir to assess the situation, activate UNMOGP, which monitors the Line of Control (LoC) in Kashmir, and implement its resolutions to settle the dispute. The Security Council swiftly implemented its resolutions on East Timor and South Sudan, but not on Kashmir which has been on its agenda since 1948. That's a case of UN double standards, he said.