Peace in Afghanistan essential for peace in Pak, Janjua tells Stephen Steinlein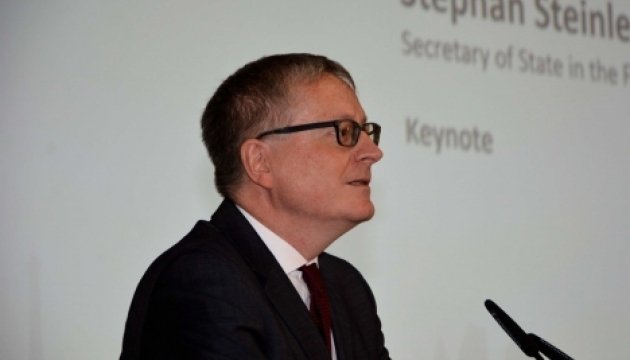 ISLAMABAD, 22 SEPT (DNA) – Stephen Steinlein, State Secretary of the Federal Foreign Office Germany, called on the National Security Adviser Lt. Gen ( R ) Nasser Khan Janjua Thursday.
The National Security Adviser briefed the State Secretary Stephen Steinlein about the role played by Pakistan for bringing peace in neighbouring Afghanistan.
He reiterated that peace in Afghanistan is essential for having peace in Pakistan.
Therefore all the efforts are being made to win peace for Afghanistan. However, our peace overtures are not being acknowledged by some antagonist elements in the Afghan government.
The NSA underscored the importance of keeping the strategic balance in the region when it comes to dealing with India and Pakistan by world powers. The NSA also highlighted the recent atrocities being committed by India in Indian held Kashmir and how she is trying to divert the attention of the world from it by accusing Pakistan of baseless and ill-founded blames.
He mentioned that these atrocities and suppression of on-going freedom movement in Indian held Kashmir was cause of serious concern for Pakistan.
The National Security Adviser urged the international community, particularly Germany to play its part in finding a lasting and peaceful solution to the Kashmir dispute in accordance with the UN resolutions.
The NSA also briefed the German State Secretary on the steps Pakistan had taken to address the challenge of terrorism and extremism. In this regard, he highlighted the gains made through operation Zarb-e-Azb and the National Action Plan.
Mr. Stephen Steinlein acknowledged the Pakistan's constructive role in regional peace & stability and mentioned that Germany understands the importance of working together for brining ever-lasting peace in the region.
He offered Germany's full support in improving the recently strained relations between India and Pakistan. DNA
————————————————————