Naval Diplomacy at Casablanca during Goodwill visit to Morocco by PNS Warships Muaven and Asalat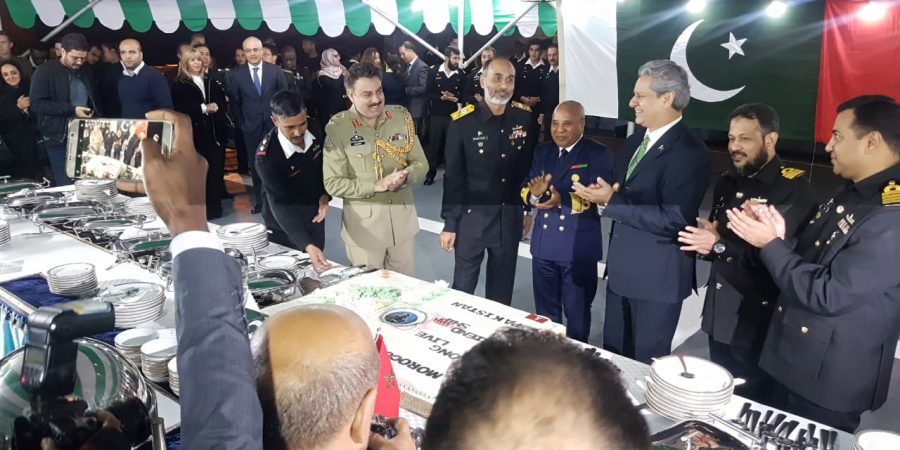 The Ambassador of Pakistan to Morocco HE Mr Hamid Asghar Khan along with Mission Commander Commodore Munib hosted a reception on board Pakistan Navy's largest and latest ship PNS MOAVEN at Casablanca Port on 12 Nov 2019
A large number of local dignitaries, diplomats, businessmen, Defense Attaches and members of the Pakistani community attended the reception held on the flight deck of the 17000 ton vessel built in Pakistan at Karachi Shipyards.
During his speech the Ambassador highlighted the historic ties between Pakistan and Morocco, and listed a number of areas where cooperation may be strengthened. The visit coincides with the celebrations of the upcoming independence day of Morocco on 18 November.
Opening of the Kartarpur corridor to Foster peace and Harmony in the region was highlighted by the Ambassador-this despite continuation of Indian belligerence and illegal actions in Kashmir.
World Banks improved ranking in ease of doing business and Pakistani growing internal market we're pointed out, making it an attractive investment destination.
The Mission Commander dilated upon the specifications and capacities of PNS Muaven and frigate PNS Aslat and played a video clip showing Indian brutalities in held Kashmir and the dangers posed to the region by Indian belligerence. A clip of the Prime Ministers historic speech at the UN GA was also played.
A cake was cut by the Ambassador and Mission Commander alongwith Chief guest Rear Admiral of the Royal Moroccan Navy.
Guests were hosted to a delicious Pakistani meal cooked on board which included palak, parathas and pulao apart from chicken qorma and mutton roast-allenjoyed by the guests many of whom had traveled from the Capital Rabat to attend the event.The deck was covered by a canopy in national colours and Pak, Moroccan and Kashmiri flags added grace to the arrangements.