National Day of Malaysia: Pakistan greatly values its ties with Malaysia: Gohar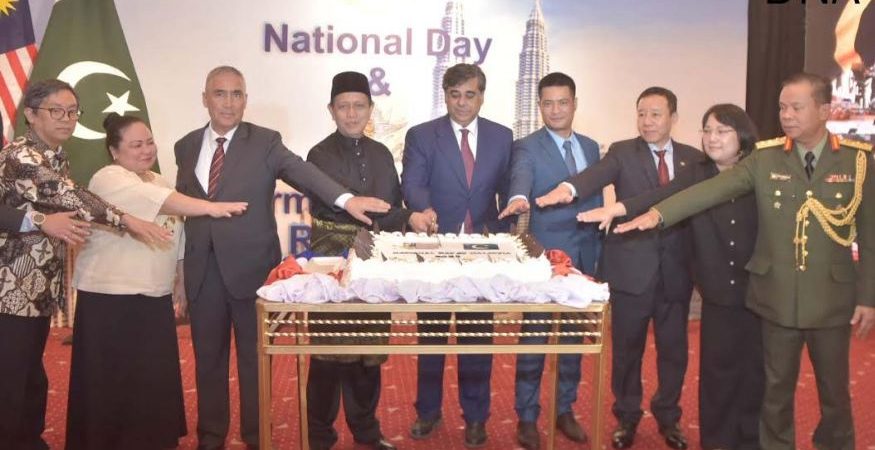 Malaysia takes pride in its relations with Pakistan, says High Commissioner Azhar Mazlan
Ansar M Bhatti
ISLAMABAD: Gohar Ejaz the Federal Minister for Commerce and Industry has said Pakistan greatly valued its relations with Pakistan adding this relationship has witnessed an upward trajectory over the years.
The Minister expressed these views while speaking as chief guest on the occasion of the 66th National Day and 90th Armed Forces Day of Malaysia. A large number of guests hailing from various walks including the civil and military officials attended the reception.
Gohar Ejaz further said there were strong trade and economic links between the two brotherly countries adding these links shall further be cemented.
He further said there were a number of areas where both countries can cooperate with each other.
High Commissioner of Malaysia Azhar Mazlan in his speech said this year the theme of the National Day celebration is Malaysia Madani: Tekad Perpaduan Penuhi Harapan'. In English, it means Determination in Unity, Fulfilling Hope'.
He said Malaysia takes pride in its unity in diversity blessed with a rich tapestry of cultures, languages and traditions. We progress ahead, we have forged a strong sense of nationhood based on our aspirations, shared values and mutual respect among our diverse ethnicities.
He added, his country takes pride in its relationship with Pakistan. Malaysia and Pakistan have been enjoying years of strong bilateral cooperation that has greatly contributed to our expanding partnership. In March 2019 Malaysia and Pakistan elevated bilateral relationship to strategic partnership.
Mr. Azhar Mazlan further said both countries share similar positions at the Non-Aligned Movement, OIC and G 77. Pakistan, he said is a Sectoral Dialogue Partner of ASEAN and a member of the ASEAN Regional Forum.
He added, that over the years Malaysia and Pakistan have collaborated in key areas of national building, from culture and tourism, defense and security, education, economic and trade, health, human resource and capacity building, parliamentary and people-to-people contact.
The guests also enjoyed traditional Malaysian cuisines and cultural performance.