NA approves 49 demands for grants for next financial year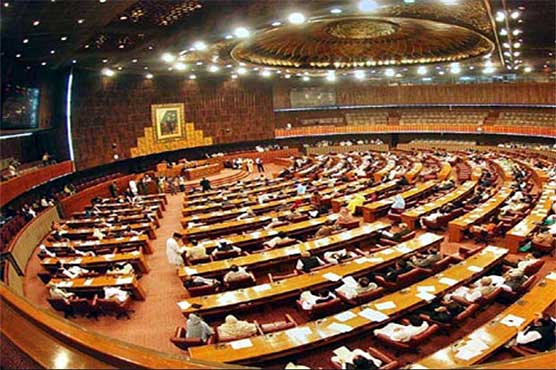 ISLAMABAD, 20 JUNE, (DNA) – The National Assembly Monday approved another 49 demands for grants for the next financial year relating to different ministries, divisions and departments.
The House rejected about 585 cut motions moved by opposition members against these demands.
Winding up discussion on demands for grants relating to his ministry, Finance Minister Ishaq Dar said of 46 billion dollars of CPEC package, 35 billion dollars would be private sector loan for energy projects having no impact on the federal government.
He said net external debt has reduced from 42.13 billion dollars into 2013 to 38.9 billion dollars now.
The Minister said the government has increased developmental expenditure as well as allocations for Benazir Income Support Programme.
Winding up discussion on demands for grants relating to other ministries, Minister for Parliamentary Affairs Shaikh Aftab Ahmad said an improved security system is being introduced at Karachi, Peshawar and Multan airports like the one in Lahore. He said on the instructions of Prime Minister Nawaz Sharif, Bannu and D G Khan Airports are to be made functional.
The Minister said Rawalpindi Development Authority and CDA are jointly working on a project to construct a dam at Chirah in Islamabad Capital Territory to augment water supply in the twin cities. He said a plan is also under consideration to supply water to the capital from Indus River.
He said steps have also been taken to improve performance of PIA and Pakistan Baitul Mal. He said Federal Government is ready to offer every possible assistance to provinces to help tackle natural calamities. =DNA