"Mountain in the Changing Climate" put on display at PAC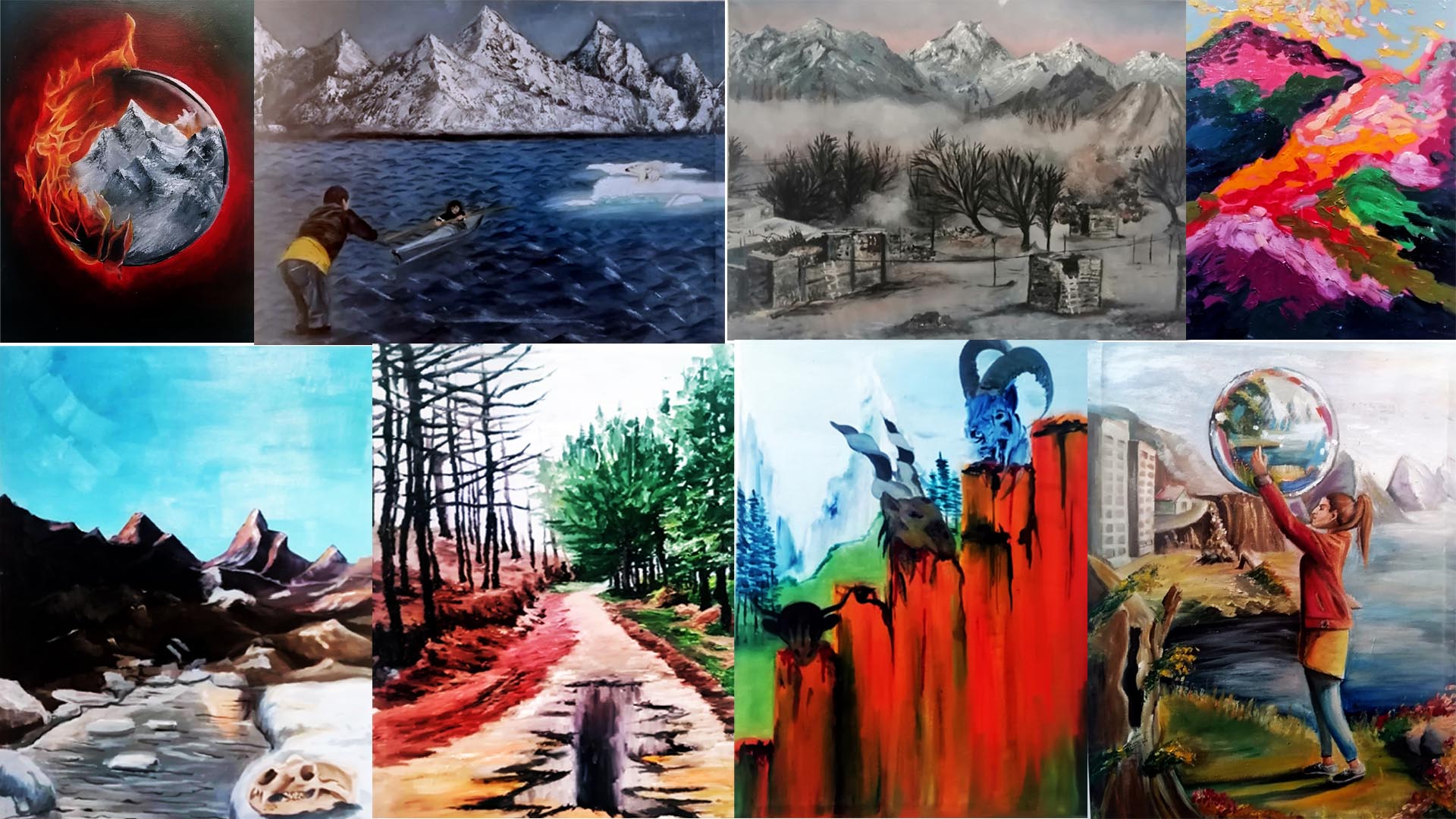 Rawalpindi /DNA/ – An exhibition of paintings "mountains in the changing climate" inaugurated on Tuesday at Rawalpindi Art Gallery. The exhibition is jointly organised by the Punjab Arts Council Rawalpindi and Development Communications network (Devcom-Pakistan) in connection with the ongoing 11th edition of Pakistan Mountain Festival. The advocacy festival is an annual flagship event of Devcom-Pakistan to commemorate International Mountain Day that falls on December 11.
Founder and Director Pakistan Mountain Festival Munir Ahmed told this scribe that more than 50 paintings by the students of different universities and colleges from Rawalpindi and Islamabad were put on display. The young emerging artists participated in the live painting competition organised at the Fatima Jinnah Women University a week back.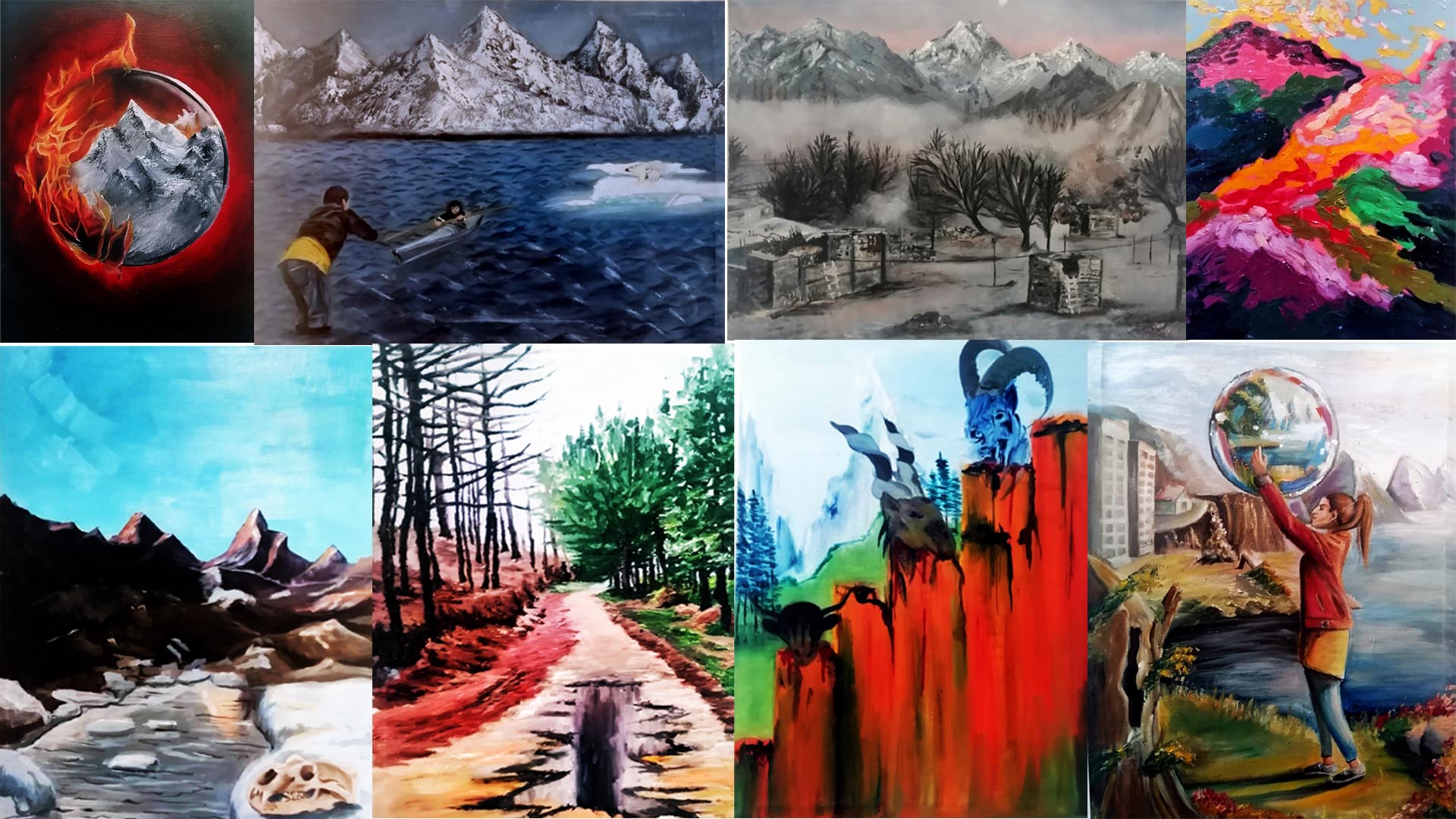 Arfaa Ilyas, a student of the Fatima Jinnah Women University, painted mountains on fire to win the first prize. Haya Aslam, A-level student of the Westminster Academy, Islamabad, was the other first prize winner for showing melting down the human-shaped icebergs. Sara Khan, a student of the National College of Arts, Rawalpindi, won the second prize for symbolically presenting unsustainability and deteriorating mountains in a bubble of water. Zaneera Ghafoor of the Rawalpindi Women University also won the second for showing breeding trophies of Markhor on the rocks. Her painting symbolically reflected the loss of wildlife in our mountains due to illegal hunting.
Other winners included Hadia Aroob from Rawalpindi Women University, Mohsin ur Rehman Baig from National College of Arts, Rawalpindi, Hifza Naseeb from Fatima Jinnah Women University, and Midhat Fatima from National College of Arts, Rawalpindi while Devcom Director's Choice consolation prize went to Zainab Masood, a students of the Westminster Academy, Islamabad.
Certificates of participation were distributed among the participating artists. Two MPAs from the Punjab Assembly Seemabia Tahir and Shamim Aftab and Islamabad Wildlife Management Board (IWMB) chairperson Rina Saeed Khan were the chief guests. Former arts council resident director Nahid Manzoor was the guest of honour.
Speaking on the occasion, Seemabia Tahir said students need to observe environment friendly practises while visiting mountains and check their consumption behaviour. Also sensitise and educate others to reduce carbon emissions. All can be done with little efforts for larger common gains.
Rina Saeed Khan said climate change has been affecting mountain communities badly but the poor communities have no choice but to bear the brunt. Pakistan has no contribution to global warming for having less than one percent global emissions. Pakistan's climate action is ahead of the global commitments but we need to engage youth for a larger common good.
Nahid Manzoor said visual arts could be the best medium to highlight the impact of climate change as we can see the disasters and droughts affecting our lives. She said the arts council is the hub of such activities engaging youth and citizens.
Waqar Ahmed, Director Punjab Arts Council Rawalpindi said the painting
s have reflected the vulnerability of our mountains in a very artistic way. He said the art council is all out to encourage young people for their creative pursuits.