Moscow format meeting begins addressing Afghanistan's situation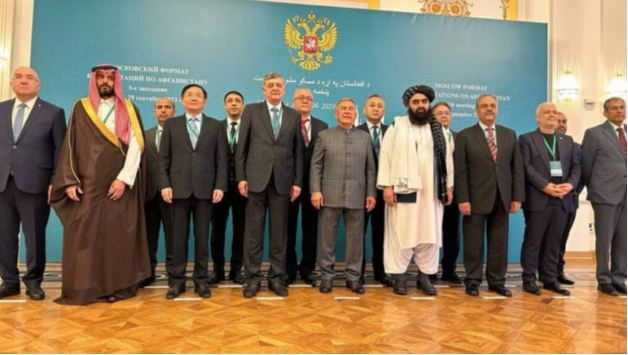 KAZAN: On Friday morning, the "Moscow Format" meeting began in Kazan, Russia, where regional authorities and envoys from various countries gathered to discuss the Afghanistan situation.
Representatives from Russia, China, Pakistan, and Iran, and Amir Khan Muttaqi, the acting foreign affairs minister of the Taliban, are participating in the meeting.
The gathering aims to address and discuss important matters related to Afghanistan and the region.
During the Moscow Format meeting in Russia, the Taliban's acting foreign minister highlighted their critical achievements over the past two years, which include maintaining stable security, conducting an effective fight against drugs, and achieving a self-reliant budget.
During his 11-minute speech at the Moscow Format meeting, acting foreign minister Amir Khan Muttaqi urged other nations to follow China's example and send their ambassadors to Kabul. His remarks did not address women's rights or girls' education in Afghanistan.
Since the Taliban assumed control of the country, they have restricted women's and girls' access to schools and universities, infringing upon their fundamental educational rights.
During the fifth Moscow Format meeting, Russian Foreign Minister Sergei Lavrov conveyed that recognizing the Taliban could be grounded on establishing an inclusive government.
Moscow aims to finalize the political reorganization of power in Kabul, which could potentially lead to the removal of Taliban representatives from the United Nations Security Council sanctions list, according to his statement.
Sergei Lavrov expressed Russia's concern about the increasing involvement of extra-regional actors in Afghanistan. He emphasized the importance of regional solutions and stability in the country.
Ten countries, including China, Pakistan, Iran, India, Kazakhstan, Kyrgyzstan, Tajikistan, and Uzbekistan, participated in the Moscow Format meeting, with Saudi Arabia, the United Arab Emirates, Qatar, and Turkey was attending as an observer members.