Mob sets Jhelum factory ablaze over blasphemy allegations: army called out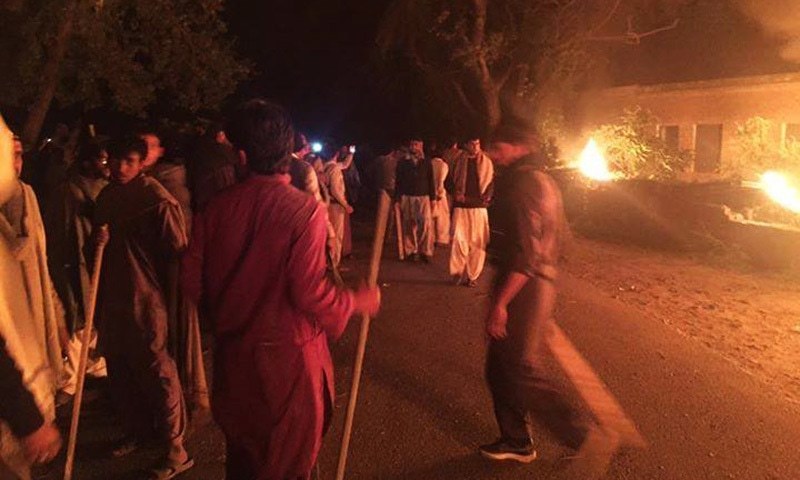 JHELUM: An enraged mob set a factory on fire in Punjab's Jhelum district late on Friday after rumours circulated in the area and announcements were made from mosques levelling blasphemy allegations on the owner and workers of the establishment. No casualties were reported from the arson attack.Hundreds of people surrounded the chipboard factory in Jhelum and set the facility ablaze after reports surfaced that one employee had allegedly desecrated the Holy Quran.
"The incident took place after we arrested the head of security at the factory, Qamar Ahmed Tahir, for complaints that he ordered burning of the copies of the Holy Quran," Adnan Malik, a senior police official in the area, told AFP.
Mob members block GT Road. — Photo by author
Mob members block GT Road. — Photo by author
According to police, another employee at the factory had reported that Tahir was overseeing the burning in the facility's boiler and intervened to stop the act.
"We registered a blasphemy case against Tahir, who is Ahmadi by faith, and arrested him after confiscating the burnt material, which also included copies of the Holy Quran," Malik said.
Four other men who were previously arrested on suspicion of blasphemy were reportedly released by the police, DawnNews reported.
After this, certain people in the area approached local mosques to make announcements through loudspeakers against the release following which people not only from the immediate vicinity but even from nearby villages gathered as a mob and set ablaze the chipboard factory.
The owner's residence, adjoining the factory, was also set on fire.
The mob later moved to the Grand Trunk Road, blocked the route and chanted slogans against the police. Members of the mob also clashed with police personnel as the latter tried to disperse the crowd.