Miandad withdraws allegations against Afridi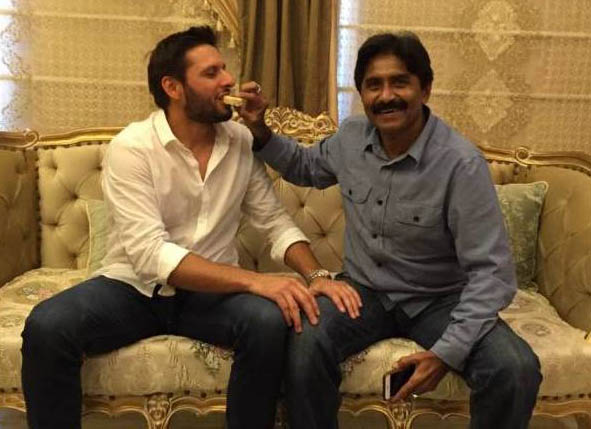 Former batsman and captain of the national cricket team Jaived Miandad on Saturday withdrew his allegations against former T20 captain Shahid Afridi and announced that he harbours no hard feelings for Afridi.
In a meeting held between the two former cricket captains, Afridi thanked Miandad for the withdrawal of his statements.
"I never demanded any apology from you as you are my senior," said Afridi while addressing him.
"You withdrawing the allegations against me is a big deal for me and my fans," Afridi added.
Miandad on this occasion said, "It is a great pleasure that Afridi is sitting beside me and there are no differences between Afridi and I."
He also expressed well wishes for Afridi and said if any of his comments hurt Afridi, he would withdraw them.
Controversy arose when Afridi, who quit ODIs last year after the ODI World Cup 2015 expressed his desire of playing a farewell match, and asked the PCB to entertain his request. Afridi had expressed his desire to bid farewell to his fans through one final match.
Miandad opposed the idea of giving a farewell match to the former T20 captain which resulted in Afridi passing controversial remarks about him.
Reacting on these controversial remarks, Miandad levelled match fixing allegations against Afridi.