Meeting held to discuss boosting Jordan-Pakistan trade, investment ties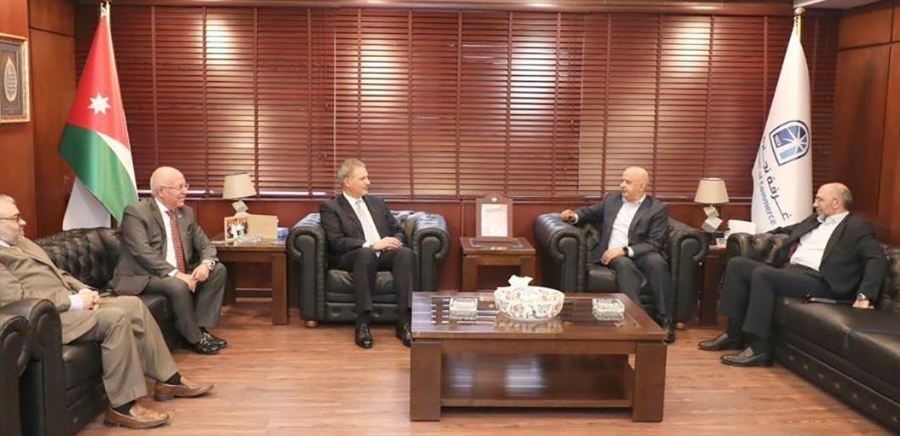 Amman, Sep. 6 (DNA) — President of the Amman Chamber of Commerce (ACC), Khalil Al Hajj Tawfiq, recently held a meeting with Ma'en Khreisat, the newly appointed Jordanian Ambassador to Pakistan, in a bid to strengthen economic ties and explore new avenues for trade and investment.
The discussion, according to a statement on Wednesday, delved into strategies for enhancing collaboration between the two countries, and bolstering bilateral economic and trade relations.
The two officials emphasized the pivotal role of the Jordanian embassy in Pakistan, highlighting its capacity to provide crucial data concerning Pakistan's market demands for goods and services.
Additionally, the embassy is well-positioned to promote investment opportunities within Jordan, especially in light of the recent legislative changes in Pakistan's investment environment, which offer a host of benefits and incentives for prospective investors.
Al-Hajj Tawfiq underscored the untapped potential within Jordanian-Pakistani economic relations, stressing the imperative need for intensified communication among various stakeholders in both countries, particularly in burgeoning sectors.
He also articulated the trade and service sectors' keen interest in increasing imports of Pakistani products. These imports, which span commodities like meat, fish, rice, textiles, and clothing, would complement Jordan's exports, including fertilizers, phosphates, and potash.
The ACC President expressed the Chamber's readiness to host trade delegations from Pakistan, a move that aims to further consolidate economic relations and leverage Jordan's strategic geographic location to access regional markets. He also suggested the formation of a Jordanian economic delegation spanning various sectors to visit Pakistan and explore investment opportunities.
For his part, Ambassador Khreisat underlined the importance of cooperation in facilitating tours to Jordan's tourist attractions. This collaboration envisions a comprehensive program for Pakistani tourists, complete with detailed activity explanations, maps of archaeological and religious sites, and cost breakdowns.
Looking ahead, he anticipated the convening of joint Jordanian-Pakistani ministerial committee meetings in the spring of 2024, an event that would provide an opportune platform for hosting a business forum, uniting Jordanian and Pakistani business magnates on the sidelines of the official proceedings.
The Ambassador urged the ACC to delineate its economic, investment, service, and tourism priorities, in order to form the basis of an action plan for coordinating efforts with Pakistani counterparts and realize shared goals.