Unwavering resolve of nation, LEAs has improved security situation: PM Nawaz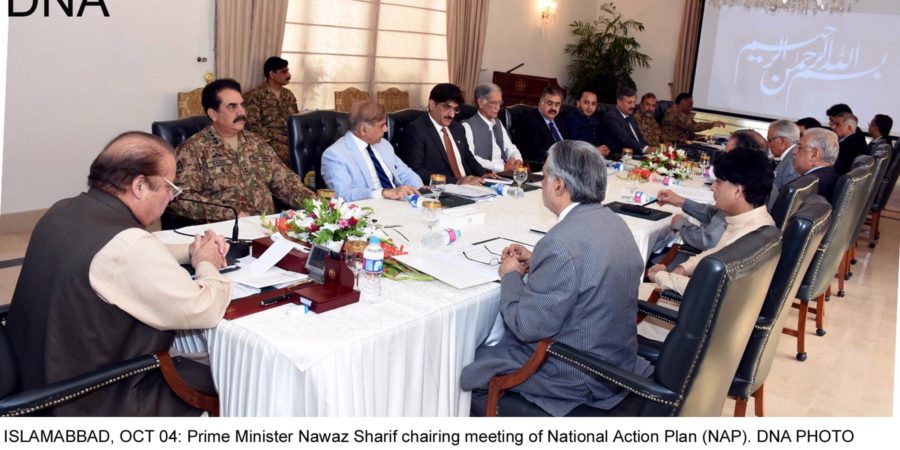 ISLAMABAD, October 04 (DNA): Prime Minister Muhammad Nawaz Sharif has said that "Unwavering resolve of the Nation and countless and continued sacrifices by Security Forces and Law Enforcement Agencies (LEAs) have resulted in significant and visible improvement in security situation across the length and breadth of the motherland."
He was chairing a meeting on the National Action Plan at PM House
on Tuesday
that agreed on making collective efforts aimed at the national level and "specific efforts" at the provincial level to consolidate gains made to rid the country of threat of extremism and terrorism.
The PM said, "The National Action Plan (NAP) is an outcome of the broad based consensus among all stakeholders. We are fighting the war on terrorism and our fight against violent extremism as a national policy imperative. The nation expects us to rid the society of these evils for all times and we will not fail them under any circumstances."
Lt Gen ® Nasir Khan Janjua, NSA and Convenor of Implementation Committee of NAP briefed the meeting on the implementation status of NAP and the challenges faced at this stage of implementation. Each item on NAP was discussed separately in detail. It was agreed that collective efforts at the national level and specific efforts at Provincial level are required to consolidate the gains made so far and move further in certain areas where progress has been unsatisfactory.
It was stressed by the NSA that role of Provincial Governments in implementation of NAP was crucial and it was imperative for all of us to work with missionary zeal. The meeting agreed on the future course of action in terms of milestones and timelines for different components of NAP. The meeting acknowledged and praised the continued sacrifices by the Security forces, Personnel of LEAs and CAFs. The participants also lauded the work of federal and provincial intelligence agencies which have enabled the Security forces and LEAs to foil many attempts of terrorists and vowed to provide them an enabling atmosphere to work within the ambit of law.
Secretary to the Prime Minister also made a presentation on some aspects of reform in Criminal Justice System. Proposals for reform in laws dealing with investigation, prosecution and judicial apparatus dealing with Terrorism cases were presented to the participants for evolving consensus on future course of action.
The participants agreed that there is a need of seamless coordination between Federal and Provincial Governments as well as all LEAs for achieving desired results. It was also agreed to further improve the collection, collation, analysis and use of intelligence input for defeating the designs of enemies.
The meeting was attended by Mr Iqbal Zafar Jhagra, Governor Khyber Pakhtunkhwa, Mr Muhammad Shahbaz Sharif, CM Punjab, Syed Murad Ali Shah, CM Sindh, Mr Pervez Khattak, CM Khyber Pakhtunkhwa, Mir Sana Ullah Khan Zehri, CM Balochistan, Hafiz Hafeez ur Rehman, CM Gilgit Baltistan, Mr Muhammad Ishaq Dar, Minister for Finance, Ch. Nisar Ali Khan, Minister for Interior, Mr Pervaiz Rashid, Minister for Information, General Raheel Sharif, Chief of Army Staff, Mr Tariq Fatemi, SAPM, Lt. Gen. (R) Nasser Khan Janjua, NSA, Lt. Gen. Rizwan Akhtar, DG ISI, Mr Aizaz Ahmad Ch., Foreign Secretary, Mr Aftab Sultan, DG IB, Mr Fawad Hasan Fawad, SPM, Maj. Gen. Sahir Shamshad Mirza, DG MO, and Maj. Gen. Nadeem Zaki Manj DG MI. NNI
The premier convened a separate meeting with the Chief of Army Staff before sitting together with other top representatives for taking a look at NAP progress and shortcomings.
General Raheel Sharif discussed the situation at the Line of Control and overall security of the region and the country with Prime Minister Nawaz Sharif.
The meeting came to a welcoming response by defence analysts as according to them it was a signifier of understanding between civil and military leaders of Pakistan when it came to Kashmir dispute and unjust Indian aggression.
This was one of the several key meetings that the Prime Minister convened in a week after India falsely named ceasefire violation at the Line of Control, surgical strike.