Lahore court reserves verdict on Parvez Elahi's physical remand in illegal appointments case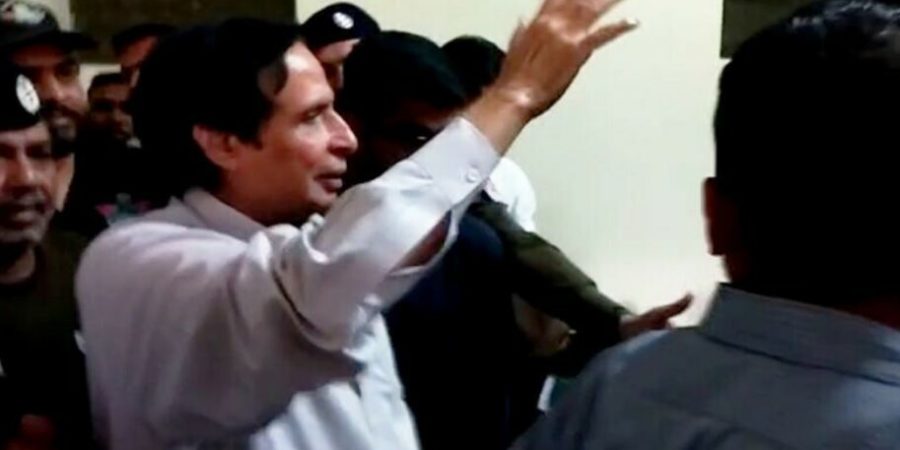 Lahore, JUN 4: A Lahore district court on Sunday reserved its verdict on a request from the Anti-Corruption Establishment (ACE) for PTI President Parvez Elahi's physical remand in a case pertaining to illegal recruitments in the Punjab Assembly.
Elahi was presented before the court by ACE officials amid tight security after he was re-arrested for the second time in two days on Saturday.
Judicial Magistrate Ghulam Murtaza Virk was hearing ACE's request for Elahi's physical remand.
According to an ACE spokesperson, the case of the illegal appointments alleges that Elahi recruited 12 Grade-17 officers in the Punjab Assembly against merit.
"He got changed the results of these candidates belonging to Gujrat and Mandi Bahauddin. We have collected evidence and also arrested Secretary Punjab Assembly Rai Mumtaz Hussain in this regard," he told.
The hearing
At the outset of today's hearing, the ACE expressed a lack of confidence in judicial magistrate Virk, with the establishment's director general (DG), Jam Salahuddin, saying they had received instructions that he should not hear the case.
For his part, the judge said, "A campaign is being run against me. I don't have any account on Facebook. I don't have any account on social media."
The context of this conversation remains unclear.
Following this exchange, the ACE official told the magistrate that they needed some time to file their request with a sessions judge for changing the judge in this case.
"I have received the instructions and we will submit a request to a sessions judge, but we need some time for that," he said.
At that, Elahi's lawyer argued that the court timings were about to end and said they would get a case registered against the ACE DG if Elahi was "taken away again today".
Then, on the ACE DG's request, judge Virk suspended the session for a while.
After the hearing resumed, the ACE's legal counsel presented his arguments upon which the judge said that the FIR mentioned the results of Open Testing Service were changed.
"Where are those changed papers?" he asked.
The ACE counsel said the results of the testing service were "tampered" with and were still available online.
The lawyer said that evidence was present against the PTI president and Elahi's physical remand was required. He requested the court to grant ACE Elahi's 14-day physical remand.
Addressing ACE's reservation about him hearing the case, the judge said he was the same one who had granted physical remand of PTI workers and yet today there was an issue being raised about him presiding over the case.
"If you don't like my decision, you can challenge it," the judge said.
Meanwhile, Punjab Assembly Secretary Rai Mumtaz also appeared in court while Elahi's lawyer began delivering his arguments, saying that the former wanted to say something.
Mumtaz said he was the coordination secretary in the provincial legislature at the time.
"I was walking last night when I was picked up. I was blindfolded and taken around. They (his abductors) took me to a place where the DG anti-corruption was sitting in front of me.
"He said: 'Do you want to remain in your position?' to which I said yes so he forced me into becoming a witness. My testimony was forced from me and I couldn't sleep all night."
Subsequently, Elahi's lawyer began with his arguments, saying that there was no other allegation against his client apart from changes in the test results. He said the Punjab Assembly speaker had the right to appoint anyone, adding that the testing service in question was still operating.
He said candidates had appeared for exams after which their results were sent to the Punjab Assembly secretary, interviews were conducted and joining letters were issued to those who passed.
"Those who were appointed are still working. If there was any problem, they would've been stopped from working," he said, adding that no evidence was presented in court against his client. He requested the court to discharge Elahi in the case.
The judge subsequently reserved his verdict on ACE's request for Elahi's physical remand.