Kyrgyzstan keen to promote economic cooperation with Pakistan: Ambassador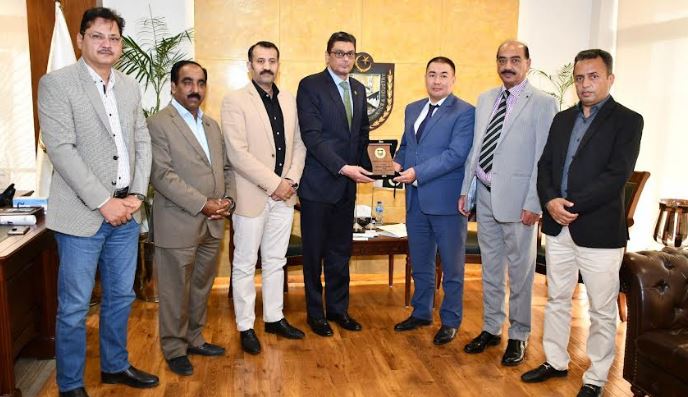 ISLAMABAD, NOV 15 /DNA/ – Ulanbek Totuiaev, Ambassador of Kyrgyzstan said that the geostrategic location of his country offered great business opportunities to Pakistan while Pakistan was a gateway for Central Asian countries for better market access to outside world, therefore, Kyrgyzstan was keen to further promote economic cooperation with Pakistan to achieve mutually beneficial outcomes. He said this while exchanging views with the business community during his visit to the Islamabad Chamber of Commerce and Industry (ICCI).
The Envoy said that the Kyrgyz capital Bishkek had hosted a very successful second Kyrgyz-Pakistan business forum entitled "Pakistan and Kyrgyzstan in the Age of Socio-Economic Integration" in October this year and his embassy was interested to organize another Kyrgyz-Pakistan business forum in collaboration with ICCI in Islamabad or Bishkek to further strengthen the business linkages between the private sectors of both countries. He said that Kyrgyzstan was a member of Eurasian Economic Union, which was a market of 180 million people and was also a beneficiary of the EU's GSP Plus. Thus close economic cooperation of Pakistan with Kyrgyzstan would be more beneficial for both countries. He also discussed a wide-range of areas for promoting trade and economic ties with Pakistan.
Speaking at the occasion, Muhammad Shakeel Munir, President, Islamabad Chamber of Commerce & Industry said that Pakistan was focusing on Central Asia for trade & exports and close cooperation with Kyrgyzstan would help it in getting better market access to this important region. He said that Kyrgyzstan was rich in hydropower generation and it can cooperate with Pakistan in this field. He said that Pakistan could export many products to Kyrgyzstan including marble & granite, pharmaceuticals, textiles, surgical instruments, food products, sports goods, leather products, IT, engineering goods and Kyrgyzstan should increase its imports from Pakistan to provide good quality products at competitive prices to its consumers. He said that both countries have good potential to cooperate in the tourism sector for mutual benefit. He said that ICCI would consider organizing a Pak-Kyrgyz business forum in collaboration with Kyrgyz Embassy.
Jamshaid Akhtar Sheikh, Senior Vice President ICCI said that Pakistan and Kyrgyzstan should encourage direct commercial flights between their major cities that would help in promoting business relations between the two countries.
Muhammad Faheem Khan, Vice President ICCI stressed for frequent exchange of trade delegations between Pakistan and Kyrgyzstan to explore new avenues of trade promotion.
Akhtar Hussain, Ch. Ashraf Farzand, Asher Hafeez and others also spoke at the occasion and shared useful ideas for promoting trade and economic relations between Pakistan and Kyrgyzstan.