Key to peace lies in talks: Sartaj Aziz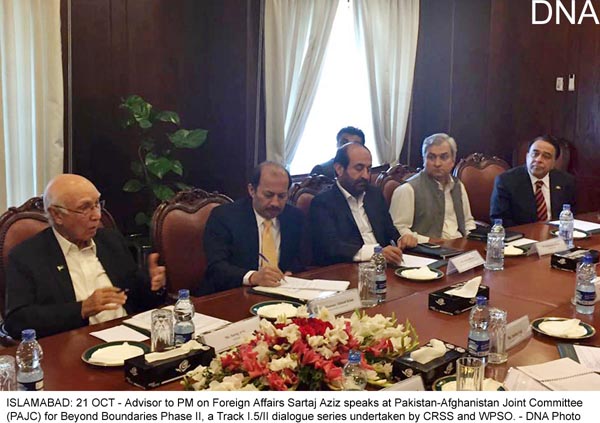 ISLAMABAD, 21 OCT (DNA) – The National Advisor on Foreign Affairs (NAFA) Sartaj Aziz on Friday said that Pakistan had no favorites in Afghanistan and will follow the priorities that elected government in Kabul determines for pursuing peace and reconciliation.
Welcoming the deal between the National Unity Government (NUG) and the Hezb-e-Islami, Aziz, said this agreement seems to have motivated and encouraged other groups to come to talks. These groups should realize that it is a different Afghanistan that wants peace and where the dominant majority would like to go back to the past.
He was speaking with the Pakistan-Afghanistan Joint Committee (PAJC) for Beyond Boundaries Phase II, a Track I.5/II dialogue series undertaken by the Center for Research and Security Studies (CRSS) in partnership with Afghan counterpart Women Peace and Security Organization (WPSO) to foster better understanding and cooperation between civil society members of the two neighbors.
He also said that Pakistan's message to all the combatants is loud and clear; nobody can capture Afghanistan on its own, and the key to peace lies in talks. We desire that both the NUG and the Taliban sort our issues among themselves and we will stand by them for any support we can lend to the process. He also welcomed unanimity of approach on the peace process within Kabul and hoped it would encourage all parties to join the process.
He added that Pakistan is doing whatever it can to persuade all Taliban factions to become part of the peace process and indications are that many of them are now interested in joining the process. He promised to the PAJC's concerns regarding the plight of Afghans in Pakistan.
The PAJC also met with retired army general and Federal Minister for States and Frontier Regions (SAFRON) Abdul Qadir Baloch. Baloch said that Pakistan remains committed to safeguarding lives and assets of Afghans living in Pakistan. They are our ambassadors and we cannot afford to send them back with bitter feelings.
He added that bitter stories will empower only those who live off continued conflict. He added that the prime minister himself was very upset with the news of harassment. Baloch lauded the efforts of the PAJC, and reiterated that dialogue and peace is the only way forward for the two countries; there is no third option.
The series brings together from both countries prominent journalists, civil society activists, former diplomats, parliamentarians, academicians, former members of law enforcement and scholars as part of the Pakistan-Afghanistan Joint Committee (PAJC) for Beyond Boundaries phase II.
The Pakistani contingent comprised Dr. Shoaib Suddle, Maj. Gen. (retd) Ejaz Awan, Ambassador Mian Sanaullah, Muhammad Tahir, and MNA Shazia Marri, while the Afghan delegation comprised Sayed Ishaq Gailani, Mozammil Shinwari, Wazhma Frogh, Palwasha Hassan, Ketabullah Khpolwak Sapai, and Elay Ershad. The workshop was chaired by Dr. Rasul Baksh Rais.
The second meeting of Pak-Afghan Joint Committee will be held November 13-17 in Herat and Kabul, Afghanistan. DNA