Kazakhstan clinches COAS Pakistan Open Int'l Taekwondo C'ship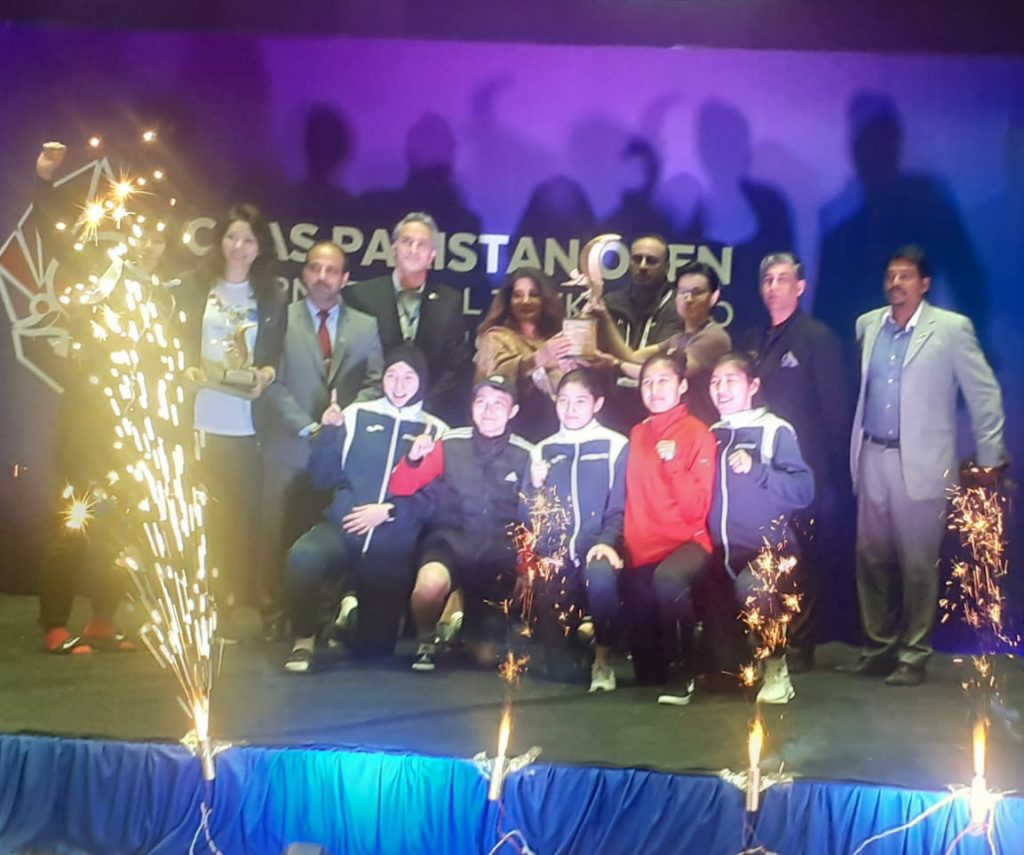 AFZAL JAVED
ISLAMABAD, NOV 09: A memorable day for Kazakhstan girls as they won all gold medals in six categories in women's event to clinches the trophy of Chief of Army Staff (COAS) Pakistan Open International Taekwondo (G-1) Championship 2021 with six gold medals at Liaquat Gymnasium Islamabad.
Kazakhstan bravely girls wins all six gold medals in different categories in women's event received heartiest appreciations from the audience during the concluding ceremony of the championship.
Hosts Pakistan got second position with 2 golds, 9 silvers and 24 bronzes while Egypt gets third slot with achieving 2 gold and 3 bronze medal just better from Croatia who also won 2 gold medals in this championship.
President South Asian Taekwondo Association (SATA) Umer Saeed distributed the trophies to the winning teams while President of Pakistan Taekwondo Federation (PTF) Lt. Col. (retd) Wasim Ahmed Janjua, PTF Women Wing President Saba Shamim along with other dignities also present during the closing ceremony.
Pakistan Taekwondo Federation with the special patronage of Pakistan Army and kind hearted support of Combaxx Sports, Fruit Nation, Go Petroleum, Bank Islami, The Bank of Punjab, Nayyab Labs, Korean Embassy, Islamabad Serena Hotel and Shangrilla Resorts organized thee days international championship where 450 athletes, 60 Coaches/Managers, 55 Technical Officials participated.
It is worth-mentioning here that Twenty Nine International Referees duly qualified from World Taekwondo Federation conducted this prestigious extravaganza. World Taekwondo has nominated to Mr. Kook Hyun JUNG as Technical Delegate and Mr Hafez Mahdavi as Chairman Referee to conduct the said event.
Results
Male Events: Under-68 Kg (Feather Weight): Gold: Glasnovic (Croatia), Silver: Zain Hikmatullah (Afghanistan), Bronze: Mohammad Othman (Jordon), Eyad Barakat (Egypt)
Under-54 Kg (Fin Weight): Gold: Omer Sharaky (Egypt), Silver: Tenzeel Hasanat (Pakistan), Bronze: Ahmed Jawad Zazai (Afghanistan), Mohammad Atif Yaqoob (Afghanistan)
Under-87 (Middle Weight): Gold: Ali Al Hashmi (Oman), Silver: Mohammad Ashraf (Afghanistan), Bronze: Rahat Ullah (Pakistan), Mohammad Iqbal (Pakistan)
Under-80 (Welter Weight): Gold: Seif Eissa (Egypt), Silver: Ramesh Hussaini (Afghanistan), Bronze: Qaisar Naveed Khan (Pakistan), Rab Nawaz (Pakistan)
+87 (Heavy Weight): Gold: Hamza Omer Saeed (Pakistan), Silver: Waqar Ali Shah (Pakistan), Bronze: Tariq Khan (Pakistan), Faizan junaid (Pakistan).