Kazakh President to pay historic visit to Pakistan: Yerzhan Kistafin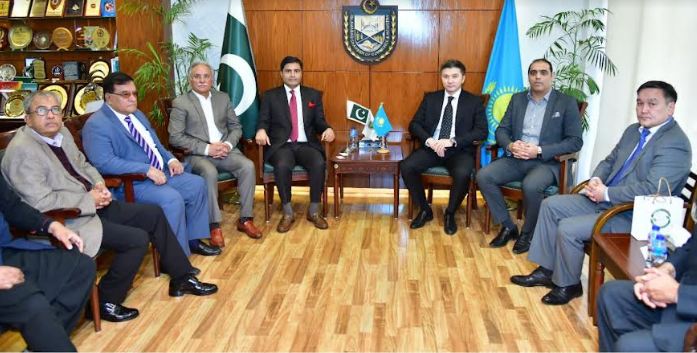 ISLAMABAD, FEB 22 /DNA/ – The President of Kazakhstan Kassym-Jomart Tokayev will visit Pakistan this year, which will start a new chapter of trade and economic relations between the two countries. This was said by Yerzhan Kistafin, Ambassador of Kazakhstan while addressing the business community during his visit to Islamabad Chamber of Commerce & Industry (ICCI).
The envoy said that the President of Kazakhstan is visiting Pakistan after 20 years, which will be a historic visit as 20 MoUs would be signed during his visit to further strengthen the bilateral cooperation in multiple fields between Kazakhstan and Pakistan.
He said that Kazakhstan is launching direct flights between Almaty and Lahore from April and Almaty and Karachi from May this year that would help promote B2B and P2P relations. He invited the ICCI delegation to visit Kazakhstan to join the launch of direct flights. He appreciated the role of Zafar Bakhtawari, former President ICCI for first-ever direct flights between the two countries. He said a delegation of businesswomen of Pakistan would also visit Kazakhstan to explore business cooperation with Kazakh counterparts.
He said that Kazakhstan intends to sign a transit trade agreement and agreement between the banking sectors of both countries that would provide a legal framework to the business communities of both sides for bilateral trade promotion.
He said that Kazakhstan provides Pakistan easy access to Eurasian and Central Asian markets and Pakistan should take advantage of this potential. He said that a number of delegations from both sides would exchange visits this year that would take the bilateral relations of both countries to the next level.
Speaking on the occasion, Ahsan Zafar Bakhtawari, President, Islamabad Chamber of Commerce & Industry (ICCI) offered that ICCI would like to host a dinner reception in honor of the President of Kazakhstan during his visit to Pakistan.
He said that both countries should focus on improving trade ties as their current bilateral trade is quite low. He welcomed the launch of direct flights and assured that the ICCI delegation would visit Kazakhstan to join its inaugural ceremony. He said that direct flights between Islamabad and Astana should also be started soon to connect the capital cities of both countries. He said that Pakistani ports provide the shortest route to land-locked Kazakhstan to the Arabia Sea and emphasized that both countries should also establish land and railways links to enhance business relations.
He said that both countries can cooperate in many fields including construction, agriculture, energy, textiles, pharmaceuticals, tourism, engineering equipment, machinery, banking & finance for mutual benefits. He invited the investors of Kazakhstan to explore JVs and investment in CPEC and in other sectors of Pakistan's economy and assured that ICCI would cooperate in connecting them with partners in Pakistan.
Faad Waheed, Senior Vice President ICCI said that Pakistan and Kazakhstan are gateways for each other to get easy access to their respective regional markets and they should develop close cooperation to take advantage of this potential.
Zafar Bakhtawari, former President ICCI termed the launch of direct flights a historic development between Pakistan and Kazakhstan. He said that Kazakhstan is an emerging power in Central Asia and Pakistan would like to develop close cooperation with it for improving trade and economic ties.=DNA
============