JI Emir Siraj meets Hamas chief Ismail Haniyeh in Qatar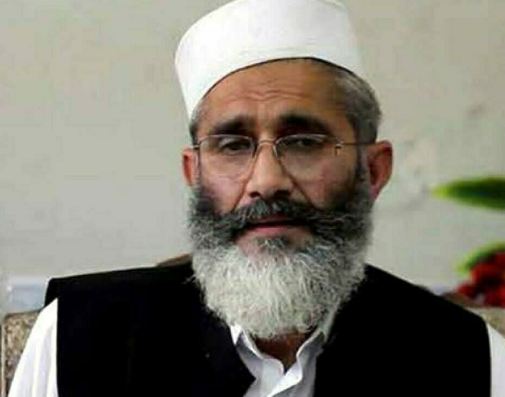 DOHA, NOV 12 (DNA) — Emir Jamaat-e-Islami Sirajul Haq met with Palestinian group Hamas chief Ismail Haniyeh in Qatar on Sunday. The central leadership of Hamas was also present in the meeting with Sirajul Haq.
Director of Foreign Affairs of Jamaat-e-Islami Asif Luqman Qazi was also there. JI director information Qaiser Sharif said that during the meeting Ismail Haniyeh gave a detailed briefing to the JI chief on the current situation in Gaza.
On the occasion Ismail Haniya offered thanks to Jamaat-e-Islami and Pakistani nation. Sirajul Haq said the entire Pakistan nation and the Muslim Ummah stand with you. Siraj-ul-Haq invited him to address the historic Gaza March in Lahore on November 19.
Qaiser Sharif said Emir Jamaat-e-Islami Siraj-ul-Haq returned to Pakistan after a six-day visit and in the last six days, he visited Iran, Turkey and Qatar. He said Sirajul Haque will address the Palestine Convention in Sialkot today.
The purpose of the visit is the joint action plan of the Muslim Ummah on the situation in Palestine. The struggle of Jamaat-e-Islami for the unity of the Ummah on the basis of common values and common feelings.
Leader of Jamaat-e-Islami met with Ayatollah Agha Qomi, adviser on foreign affairs and other leaders in Tehran. Emir Jamaat-e-Islami Siraj-ul-Haq also met with the Speaker of the Turkish Parliament Noman Kurtulmosh and discussed situation in Gaza.
Siraj-ul-Haq emphasized the joint role of the governments of Muslim countries, including Turkey, to save Gaza. Siraj-ul-Haq also addressed the Palestine March in Istanbul. The Jamaat-e-Islami leader Siraj-ul-Haq met with leaders of global Islamic movements and met with the heads of political parties in Turkey. — DNA