Talks with MQM-P focused on constitutional amendments: Kh Saad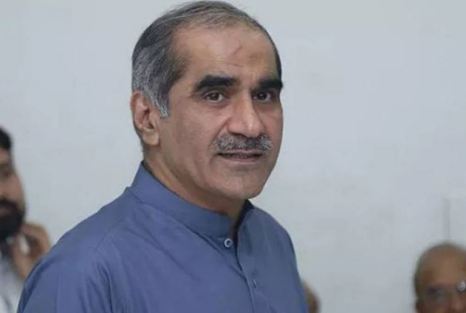 KARACHI, NOV 12 (DNA) — Senior Pakistan Muslim League-Nawaz (PML-N) leader Khawaja Saad Rafique on Sunday said they would introduce constitutional amendments, requiring a two-third majority, adding that the proposal was the main point of focus with their talks with the Muttahida Qaumi Movement-Pakistan (MQM-P).
"The point [under discussion] in dialogue with the MQM-P is that what constitutional changes are to be brought, if [our] government is formed," he told a press conference held at the Karachi Press Club.
Saad made it clear that the removing anyone [minus formula] from politics wasn't part of their agenda. They had visited Pir Pagara – the PML-F chief – and the JUI-F yesterday [Saturday] and would meet the MQM-P leadership later in the day, he said.
It had been decided that the PML-N would contest the upcoming elections jointly with the MQM-P and the JUI-F, he said, adding that talks were under way with other political parties.
About the mode of electoral cooperation between the different political allies, he said there would be seat adjustment and every party was going to participate in the polls on its own election symbol.
He also regretted that Karachi had been ruined intentionally and was ignored by every government. He said that the city has not received attention for decades. "Karachi and the local government system will be discussed in the meeting. We will also have a discussion on how to make local governments effective," he said, lamenting that the city was "ruined" under a "well-thought-out plan."
"We will try out best to run together the country as per constitution," the seasoned politician said while talking about the future course of action after the much-awaited polls.
Speaking on the occasion, Sardar Ayaz Sadiq, who is also a member of the visiting PML-N team, said that the timing of former prime minister Shehbaz Sharif's arrival in Karachi would be decided after their ongoing visit.
Ayaz Sadiq said the PML-N has had good relations with all parties. "We will meet the parties with whom we can have a political coalition." He said that the PML-N supremo will visit Balochistan on November 14 for election campaigning.
"Just like we established peace in Karachi, we will also ensure it in Balochistan. On the occasion of his visit, some people will join the PML-N," the PML-N leader said, hinting at his party's coalitions in the western province.
Commenting on opposing statements coming from different political parties, such as the PPP, Rafique said: "Politicians talk when the election is near. Ours do it too."
The former minister insisted that no single party or institution can improve the country. "The Charter of Democracy should go beyond two parties and include all parties. There should now be a Charter of Economy." — DNA