Japan, UNOPS sign accord for women bus service in KPK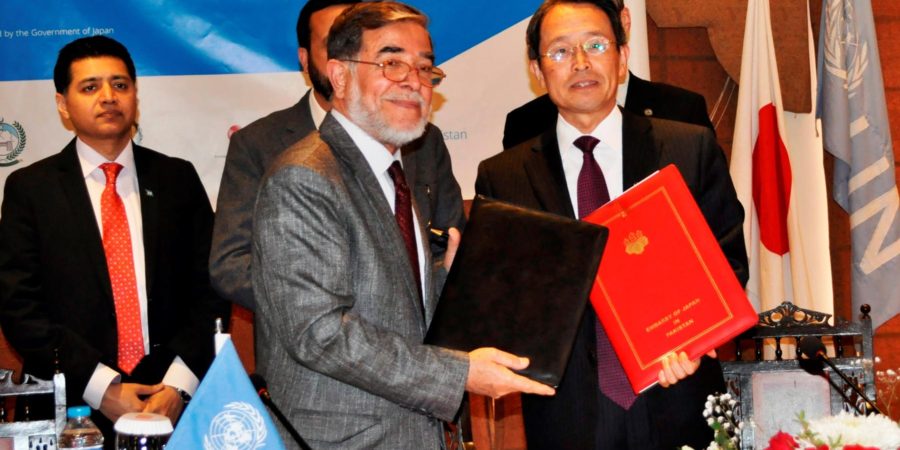 ISLAMABAD, DEC 07 (DNA) – –The Embassy of Japan and the UNOPS Country Office in Pakistan on Wednwday signed a UNOPS pilot project aimed at development of a women specific transport service in selected districts of KPK Province.
High officials from the Economics Affairs Division, Planning Commission of Pakistan and Department of Transport KPK were present at the occasion along with UN Resident Coordinator and heads of other UN agencies and representatives of foreign missions and donor agencies.
The envisaged project is to be implemented by UNOPS Pakistan Office in partnership with the KPK Transport Department and UN WOMEN through the financial support of the Government of Japan.
In total, the generous contribution of the Japanese government for the duration of the project will amount to about 191 million JPY (Approximately 1.79 Million US$).
During his opening address Resident Coordinator UN Mr. Neil Buhne underlined that "Public transportation is the cheapest and practical route adopted by the women to access their work places or colleges or universities, but, travelling with the fear of harassment and having to face it every day brings down their productivity drastically.
The introduction of "Women Bus Service" is an initiative taken to make women feel safe, secured and comfortable when travelling.
These buses aim at protecting women during travel and reducing the risk of being a potential victim. The project will pilot 14 buses in 3 districts of Khyber Pakhtunkhwa (KPK); Peshawar, Mardan and Abbottabad."
During his speech Mr. Muhammad Haider Reza, Director a. i. UNOPS Pakistan highlighted the fact that "sexual harassment of women is not limited to the workplace. It can and does occur when a woman leaves home for work or studies.
Working women and female students experience sexual harassment from men working as drivers and conductors/ticket collectors in public transport.
Women are constrained to either give up the opportunity of working or studying, or face this harassing behavior when they have no other option but to use the public transport system". UNOPS consider it an honor to support and work in close partnership with the Department of Transport, Government of KPK, the Japanese Government and UN WOMEN on this innovative project.
Mr. Jamshed M. Kazi Country Representative UN WOMEN emphasized that "The introduction of women-only buses in Khyber Pakhtunkhwa is a simple idea with potentially transformative results for women's empowerment.
Mr. Zubair Asghar Qureshi, Provincial Secretary Transport and Mass Transit Department, Government of Khyber Pakhtunkhwa thanked the Government of Japan, UNOPS and UN WOMEN for supporting this initiative.
"It gives me great pleasure to be here and witness the start of a major initiative that gives due credit to the most important part of our society, the Feminine Gender. The initiative of Women Buses is already getting good response from the ladies of KPK, and they are looking forward to it.
Takashi Kurai, Ambassador Extraordinary and Plenipotentiary, Embassy of Japan, stressed Japan is keen to support and empower women to realize the 'A society in which all women shine' as it is one of highest priority issue for Prime Minister Abe.
Mr. Kurai also emphasized "This project will contribute towards the socio-economic empowerment and development of women by providing them with a safer and affordable means of travel.
It will help women of KP in accessing their workplace and institutions without any fear of harassment. This project is a huge step forward towards a positive change in society's perception regarding women and hopefully, soon we will achieve a society, where women and men both can live freely and happily."
The United Nations Office for Project Services (UNOPS) is an operational arm of the United Nations, helping a range of partners implement around $1.4 billion worth of peace-building, humanitarian and development projects every year.=DNA