Japan to provide Hybrid vehicles worth Rs 435 mlm to Pakistan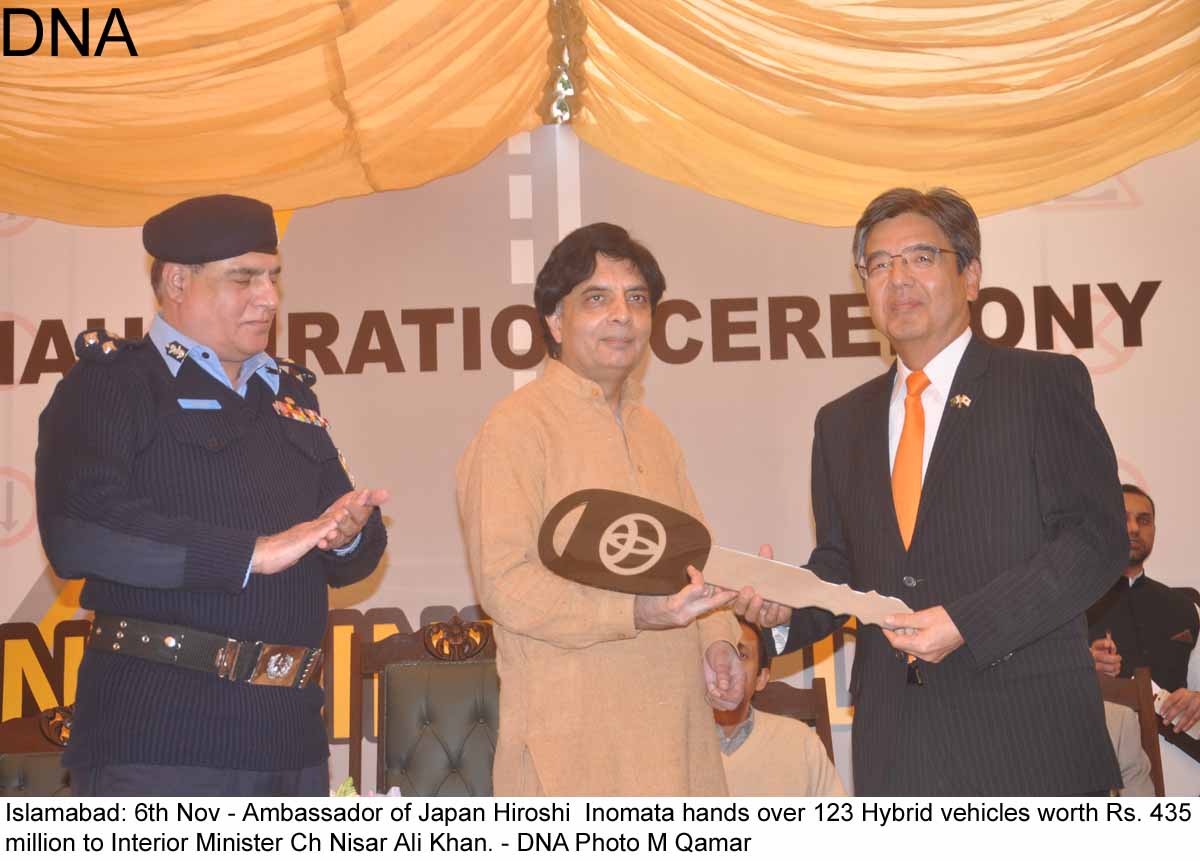 ISLAMABAD, NOV 06 (DNA) – Hiroshi Inomata, Ambassador of Japan to Pakistan, handed over hybrid vehicles to the Ministry of Interior (MOI) on Friday. These hybrid vehicles were manufactured by Japanese company using more efficient cutting edge technology. The Government of Japan will provide in total 123 vehicles to MOI and National Highways and Motorway Police. Total cost for the provision of the vehicles is around 500 million Japanese Yen, an equivalent of PRs. 435 million.
This is part of the assistance from the Government of Japan to Pakistan in the form of Japan's Non-Project Grant Aid (NPGA), aim of which is to contribute to the promotion of socio-economic development efforts in developing countries.
The handing-over ceremony graced by The Minister of Interior, H.E. Mr. Chaudhry Nisar Ali Khan, was held at the Islamabad Traffic Police Headquarters.
The Ambassador Inomata while speaking on the occasion said, "Security enhancement is indispensable for successful socio-economic development in Pakistan and the Government of Japan remains committed to improving capabilities of law enforcement agencies in Pakistan".
In the field of security and law enforcement, the Government of Japan, through Japan International Cooperation Agency (JICA), has provided training opportunities to around 45 Pakistani police officers for the last ten years in areas such as forensic science, drug control and terrorism investigation.
In addition, Japan also agreed to install scanning devices for the purpose of security at three international airports and at two international ports in Pakistan and now the project is currently underway.
From the environmental point of view, hybrid vehicles use less fuel and emit less greenhouse effect gases than conventional cars. The latest hybrid vehicles from Japan are expected not only to enable the Pakistani police agencies to reduce fuel costs for their daily operations, but also to help the Government of Pakistan to address environmental challenges.
The Government of Japan committed in November 2013 that it would provide 1.6 trillion Yen (approximately 16 billion USD or Rs.1.4 trillion PKR) of public and private finance over a period of three years from 2013 to 2015 to developing countries, which include Pakistan, to counter climate change. This project forms a part of this commitment.
Environment-friendly vehicles such as hybrid cars are widely used in Japan by the police, other government entities and public transport as well as the general public. Ambassador Inomata expressed his wish that "this NPGA will provide good opportunity for Pakistani people to realize positive environmental effect brought about by hybrid vehicles". He expressed his hope that the provision of this NPGA will contribute to strengthening the bond of friendship between Japan and Pakistan.=DNA