Japan provides additional 5.58 million USD to strengthen weather forecasting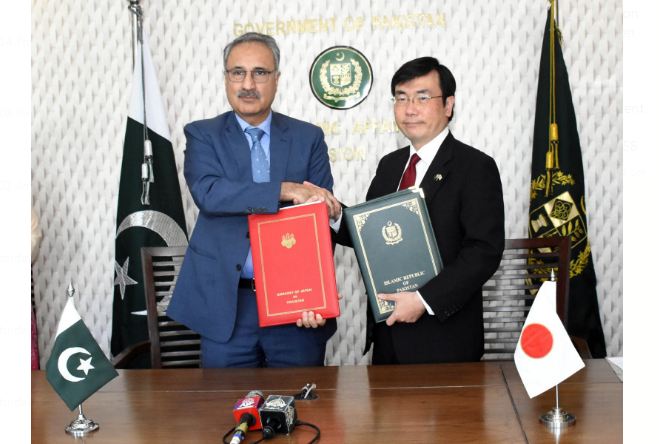 ISLAMABAD, MAR 20 /DNA/ – Government of Japan decided to increase the amount of a grant aid for "the Project for Installation of Weather Surveillance Radar in Multan" from 2.042 billion Japanese Yen (equivalent to around 14.99 million USD) to 2.8 billion Japanese Yen (equivalent to around 20.57 million USD).
The original Notes to this effect were signed and exchanged between two governments on 31 August 2018. Responding to the request from the Government of Islamic Republic of Pakistan, this time, the Government of Japan decided to provide additional amount of 760 million Japanese Yen (equivalent to around 5.58 million USD) for this project.
The Notes to this effect for provision of additional amount were signed and exchanged between Mr. ITO Takeshi, Charge d' Affaires ad interim of Japan to the Islamic Republic of Pakistan and Dr. Kazim Niaz, Secretary, Ministry of Economic Affairs
Pakistan is prone to natural disasters such as floods and landslides caused by heavy torrential rains, tropical cyclones and earthquakes. This results in heavy damages, particularly, due to floods triggered by monsoon rains. The Japanese government has been assisting Pakistan proactively, in the enhancement of weather surveillance capacity since the 1980s, in order to mitigate the damage by flood. Including the additional amount pledged today, the total amount of Japanese assistance for weather surveillance radars in Pakistan has reached about 11.3 billion Japanese Yen (equivalent to around 82.9 million USD). So far Japan has supported the installation of 6 weather radars in the cities of Islamabad, Karachi, Dera Ismail Khan, Rahim Yar Khan, Multan (ongoing) and Sukkur (ongoing) and will cover 80% of the country and benefit 90% of the whole population. The weather radar network will surely contribute to further strengthening the weather forecasting capability in Pakistan and help Pakistan become more resilient to future natural disasters.
In the signing ceremony, Mr. Ito stated, "This project will enhance PMD's capabilities, it
will be able to disseminate information and deliver more accurate weather forecast, it will be able to send out warnings to protect life and properties of the people in Pakistan. The whole population of the country will be benefitted."