Jahanian witnesses Istehkam-e-Pakistan party's first-ever power show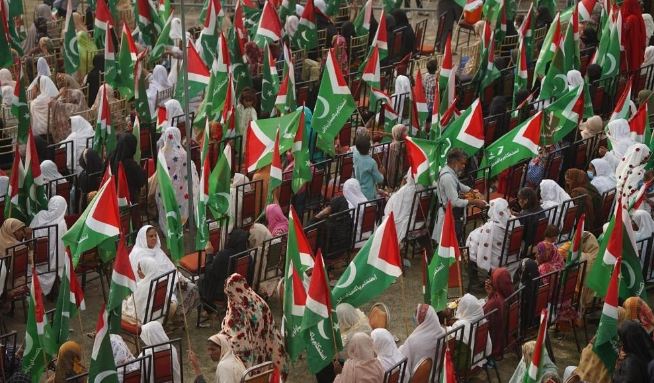 Jahanian: The Istehkam-e-Pakistan Party (IPP) is all set to host its debut power show today in Jahanian tehsil of Khanewal distict.
Processions of workers and supporters are reaching the public gathering venue of the Cricket Stadium in Jahanian, and raising pro-party leaders slogans. A large number of women are also attending IPPs' inaugural rally where patriotic anthems are blaring on loudspeakers.
Strict security measures have been taken, walkthrough gates installed, and 700 officials will provide security cover to the gathering.
Large caravans of IPP workers from Lodhran, Bahawalpur, Mailsi, Khanewal, Shujabad, Qadirpur Ran, Makhdoom Rasheed are expected to attend the first public rally of the IPP.
Party supporters believe the IPP will have a central role in the next government.
A local IPP leader in Lodhran, the hometown of party patron-in-chief Jahangir Khan Tareen, said only the IPP can sole the problems of the IPP.
The public gathering is scheduled to be addressed by Mr Tareen, as well as IPP President Abdul Aleem Khan.
IPP Central Information Secretary Dr Firdous Ashiq Awan commented that the ones talking about 'change' have got where they were supposed to, while this is the party of a digital and prosperous Pakistan. "Today, the eagle (the party's election symbol) will take a flight from here," she remarked.
"This was our attempt to go where no one has gone before. Only those people come to backward areas who are someone's companion," the former minister said, adding that the IPP was going to end uncertainty and start a new political innings.
Firdous said Jahangir Tareen has a deep connection with this land, adding that with the efforts of Mr Tareen and IPP President Abdul Aleem Khan, a new journey of development will begin.