Ishaq Dar indicted in graft reference, pleads not guilty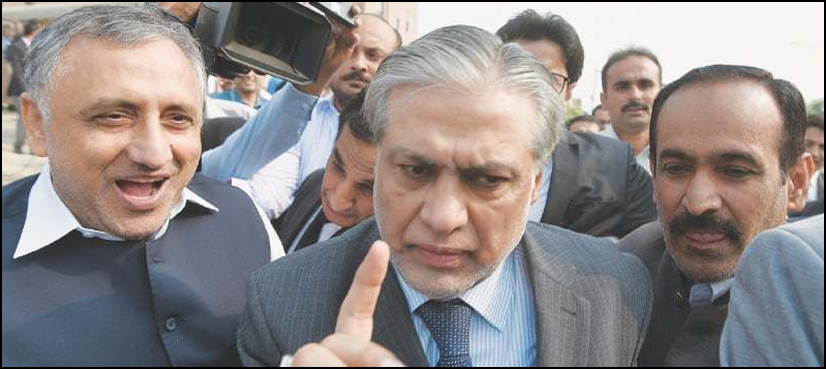 ISLAMABAD, SEPT 27 (DNA) – An accountability court on Wednesday indicted Finance Minister Ishaq Dar in a reference filed against him by National Accountability Bureau (NAB) for acquiring assets disproportionate to his known sources of income.
Judge Muhammad Bashir read out charges against the minister, which he denied and opted to contest them.
Accompanied by State Minister for Information Technology and Telecommunication, Anusha Rahman, Barrister Zafarullah and other party leaders, Dar reached the court amid tight security.
The main entrance to the complex housing the accountability court was shut for journalists, advocates and other people, which created chaos.  After being kept waiting for around 20 minutes outside the building, he was allowed to enter via backdoor.
At the previous hearing, Judge Muhammad Bashir had provided a copy of the reference to the minister's counsel along with copies of relevant documents, comprising 23 volumes and said the accused would be indicted on next hearing on Sept 27 (today).
The court had rejected a request by Dar's counsel, Amjad Parvez, to adjourn the case for a week so that he could peruse the voluminous report.
It observed that it would conduct day-to-day hearings in the reference, so that the trial is concluded within six-month deadline set by the Supreme Court.
The finance minister had appeared before the court after it issued bailable warrants for his arrest. He had submitted a surety bond worth Rs1 million to seek bail in the case.
According to the NAB reference, the accused had acquired assets and pecuniary interests/ resources in his name or in the name of his dependents of an approximate amount of Rs831.678 million as per the investigation conducted so far.
The assets are disproportionate to his known sources of income for which he could not reasonably account for.
Earlier on Sept 26, former prime minister Nawaz Sharif appeared before the accountability court in three graft references filed by NAB in connection with his family's offshore properties.
After a brief hearing, Judge Muhammad Bashir allowed Sharif to leave. Sharif's political secretary Asif Kirmani, who accompanied him at the hearing, informed the judge that Sharif's wife Begum Kulsoom Nawaz is not well and thus, his children are in London, looking after their ailing mother.
The court had handed over copies of the references along with relevant documents to Sharif's counsel Khawaja Harris and said it would indict him on next hearing on Oct 2.
The judge also issued bailable warrants for the arrest of Sharif's children and son-in-law retired Capt Muhammad Safdar after their failure to show up in the court. He warned that if they failed to appear on next hearing, he would issue their non-bailable arrest warrants.