Inomata inaugurates medical equipment project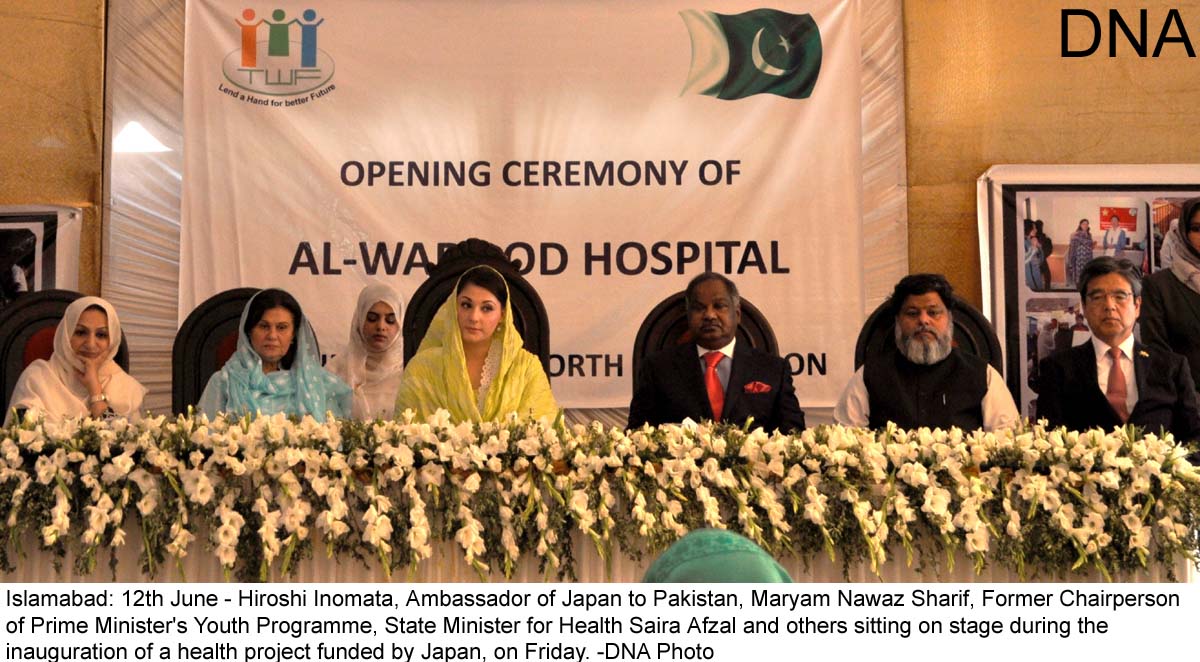 ISLAMABAD, 12 JUNE (DNA) – Hiroshi Inomata, Ambassador of Japan to Pakistan on Friday inaugurated a project to provide essential medical equipment and an ambulance to a health centre in the outskirts of Islamabad.
Hiroshi Inomata's wife, Midori Inomata and Ms. Maryam Nawaz Sharif, Former Chairperson of Prime Minister's Youth Programme were also present on the occasion.
This project was implemented by a grant of US $ 70,660 provided from the Government of Japan to the True Worth Foundation, an NGO actively working for grassroots development in Pakistan. The inauguration ceremony was attended by Mrs. Syeda Zahra Fatemi (Chairperson of the Foundation), other members of the Foundation and members of the local community.
The provision of essential health equipment to the health centre will enhance its capacity significantly, thereby providing the local community with an affordable and accessible facility for addressing their health needs. In addition, the induction of the ambulance will save many lives by ensuring timely medical attention for the sick and injured. Previously, the area had suffered from a lack of high quality health services, which caused serious problems for its inhabitants.
At the inauguration ceremony, Ambassador Inomata stressed the importance of reliable and affordable medical facilities, especially for suburban communities. He also expressed his hope that this project would improve the general welfare of people in the area, and in doing so would undoubtedly strengthen the existing friendly relations between the people of Japan and Pakistan.
The support for this project has been made under Japan's Grant Assistance for Grassroots Human Security Projects (GGP) Programme.
The GGP Programme was initiated by the Government of Japan with the belief that considering the nature of the challenges being faced by the world today, in order to achieve the goal of a peaceful and humane society, assistance to governments and international institutions needs to be supplemented by support to community based organizations that are working at the grassroots level.
Since 1989 when the GGP Programme commenced in Pakistan, a total of 344 projects have been supported in nearly all parts of the country with a cumulative grant amount of more than Rs. 2.3 billion. DNA