Industrialization in country, helps to solve employment issue: FPCCI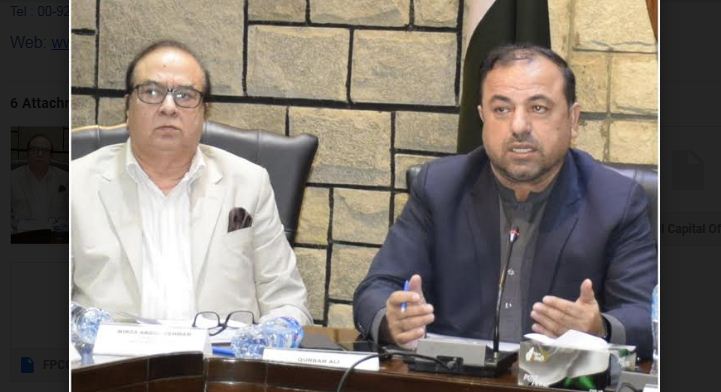 ISLAMABAD (DNA): Qurban Ali, Chairman, FPCCI Capital Office, and Mirza Abdul Rehman Coordinator FPCCI Capital Office have said that industrialization should be promoted in the country and special relief should be given to small traders. Priority should be given to reduction of electricity, and gas tariffs, one-window tax system and promotion of industries instead of imports so that the country can develop and unemployment can be reduced.
The Head of FPCCI Capital Office, Islamabad further said that the president FPCCI Mian Nasser Hyatt Maggo along with his team prepared budget proposal and suggested various measures for the promotion of industrialization. The team of FPCCI led by the President had held several meeting in concerned quarters and discussed the proposals. The Prime Minister and the Finance Minister has assured us to consider the FPCCI proposal in the forthcoming budget. He said that we are trying to ensure that no new tax is imposed on the common man in the federal budget and the business community especially small traders also get special relief.
Qurban Ali added that, traders are the backbone of Pakistan and the business community plays a major role in providing employment. He said that industry should be promoted in the country which will helpful to solve economic crises in the country; and country has to be made export base. Elimination of unemployment can be ensured only by promoting the investment in industrial sector. While stressing on reduction in Electricity tariff. He said that, no attention has yet been made to reduce the line losses. We appeal our government to take steps to promote industries in the country instead of importing and giving maximum relief to the people so that a tax culture is enhanced. This will not only increase foreign exchange but also helpful to eliminate unemployment.
Talking about the federal budget, Mirza Abdul Rehman, Coordinator, FPCCI Capital Office, said that, FPCCI leaders and officials have met the government, who appreciated the FPCCI's proposals and assured us to focus inclusion in budget.