Indonesia a wonderful place to live and visit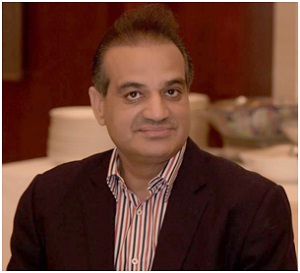 One is greatly touched by hospitality and humbleness of Indonesian people that, in my view, plays central role in their success in all spheres. We could see people walking around and saying "hello" and other greeting to us while we were either visiting a shopping place or a tourist destination. Even we came across people in civil dress but actually from the police department. They came to us asking about our nationalities and then revealing their identity that they were from the police and were here to protect tourists and visitors
Ansar Mahmood Bhatti delivered this speech during a function arranged by the Indonesian embassy for FAMTRIP participants, tour and travel industry. Here is the text of the speech.
Ansar Mahmood Bhatti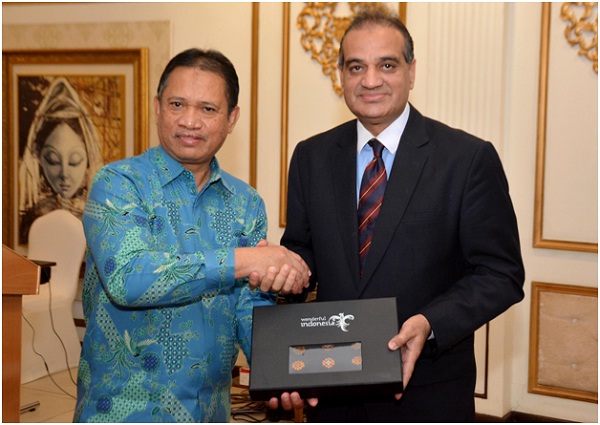 ISLAMABAD: Charge d Affaires of Indonesian embassy Andi Bastari giving souvenir to Ansar Mahmood Bhatti after speech. DNA
"Well, first of all please forgive me if I make too many fumbles in my speech because frankly making a speech is an art and I do not know this art, at all.
But, since I have been asked to share my experiences and thoughts about these trips so I am here to share with you what I have observed and seen during these trips. I had the honour of visiting Indonesia THREE TIMES. First time I went alone to take part in a conference in Bali and then in 2018 and 2019 I visited this wonderful country as part of FAMTRIP. Courtesy, the Indonesian embassy in Islamabad.
The way the entire trip is executed right from the beginning to the end, is just amazing. I have participated in a number of such FAMTRIPs but the way this trip is organized is indeed praiseworthy. Everything is in order. Schedules are prepared and executed keeping in view the convenience of the participants, which seldom happens in such kind of trips.
We found people of Indonesia extremely warm though I often wonder why people who are otherwise so warm eat extremely cold food. But, then it was quite an experience of having cold food and now we are used to it.
One is greatly touched by hospitality and humbleness of Indonesian people that, in my view, plays central role in their success in all spheres. We could see people walking around and saying "hello" and other greeting to us while we were either visiting a shopping place or a tourist destination. Even we came across people in civil dress but actually from the police department. They came to us asking about our nationalities and then revealing their identity that they were from the police and were here to protect tourists and visitors.
The idea of tourist police is unique and now in vogue in many countries. I first experienced this in Uzbekistan where tourist police has been taking care of tourists since 2017. The main task of this department is to monitor the tourists' safety, inform guests about potential threats in real time, as well as help in protecting their rights and interests. This I think is yet another feather in the cap of Indonesian tourism ministry when it comes to protecting visitors.
Indonesian people too are keen to come to Pakistan for especially religious tourism purposes. It is now up to our side to reach out to them and invite them. It can be a major source of income for the government also. On way back from Umra or Hajj they can visit Pakistani places. Here the travel agents have a role to play.
EXPO
Since the FAMTRIP coincides with the TRADE EXPO. This is in fact a good idea because in this way participants can have knowledge about what Indonesia has to offer. The influx of potential buyers who attend this expo is a clear manifestation of its success and utility.
SUGGESTIONS
Frankly, I don't have anything particular to add when it comes to recommendations to further improve the program. The FAMTRIPS trips are always planned and conceived professionally and as per the SOPs devised by the FAMTRIP experts.
What I can add or suggest here is that since the purpose of such trips is to provide more and more information to the visitors about Indonesia therefore it would be ideal if more and more destinations can be covered during the stipulated period. Of course, it may be a bit hectic to move from one place to another in a short span of time but then that is perhaps the true spirit and purpose of such trips.
SELECTION OF ACCOMODATION
Then selection of accommodation is yet another area that can either make a guest happy or otherwise. Participants, especially media people would prefer an accommodation in the city center and fully equipped with communication tools such as Wifi etc.  During my first visit in 2018, we had to experience some accommodation and communication issues maybe because that particular trip was outsourced to a third party. But in 2019, it was executed perfectly because this time officials from the tourism ministry were taken on board. I think this experience proved a success and may be continued for future trips.
AIR TRAVEL WITH LESS TRANSIT
Another important aspect that can contribute positively or negatively to a FAMTRIP happens to be the selection of air route. The shortest possible air route with convenient transit time can surely make a guest happy and thus trip starts on a positive note. The same may apply for return journeys as well. By and large, shortest possible routes are selected for Indonesia FAMTRIPS. However, last year due to some connection issues, the trip was organized thru Qatar and from there to Jakarta, which was obviously quite a long route. And participants had just a few hours before their first official meeting the same day. As we have been told that Lion Air, the budget airline of Indonesia, is planning to start its operations from Pakistan. I think it would be easy to get to Indonesia after start of direct flights.
BANGKOK ROUTE
There is another suggestion to make this trip more interesting, at least from the participants' point of view. The group has a transit in Bangkok on both ways. Maybe on way back, a short stay of one or two nights can be arranged in Bangkok. Indonesian and Pakistani embassies in Bangkok may also be taken on board in order to make the short stay official also. This proposal can be given a try at least once. If it works, it may continue and if it does not, just forget about it.
But as I said the Indonesian FAMTRIPS are organized in professional manner that one can hardly find any shortcomings. I am sure thru such programs the Indonesian authorities have successfully projected a positive image of their country outside of Indonesia. Those who take part in such programs then serve as representatives and ambassadors of Indonesia in their respective countries, and I believe, that is the purpose a country would like to achieve through such an exercise.
Before I close my words, I have to recognize services of Ambassador Iwan S Amri, whose personal interest made these trips memorable.  And Ambassador Amri could do all this through his executive arm which in this case happens to be Mr. Denny and his team.  Of course, it was great team work that made the project of FAMTRIP a total success.
I wish and pray that this success story continues even in the coming days and I and my organizations are always there to fully support and encourage all such future endeavours".
The writer is the Editor Daily Islamabad POST, CENTRELINE magazine and DNA News Agency.He can be reached at centrelinemag@gmail.com