India trying to suppress right of self determination movement of Kashmiris: Kaira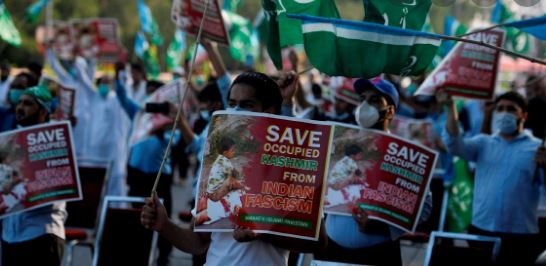 ISLAMABAD, MAY 25 /DNA/ – Kaira said that India was trying to suppress the right of self determination movement of Kashmiris through different tools of state terrorism. On one side innocent Kashmiri youth are being martyred in fake encounters and on other side the Indian state authorities are issuing domiciles to non residents of Indian illegally occupied Jammu and Kashmir IIOJK, in order to change its demography.
He said that India must realize that it state terrorism in IIOJK had failed to serve its purpose in last 70 years and would also fail in future as well. He said that hundreds and thousands of Kashmiri youth stand steadfast in their just demand of right to self-determination today and are sacrificing their lives to get freedom from the Indian yoke. The Adviser to the Prime Minister urged the international community to give up its vested interests and take practical steps for the reversal of the verdict against Yasin Malik.
He also called on all international Human rights organizations including Amnesty International, United Nations office of High Commissioner for Human Rights and Human Rights Watch to condemn and expose this cruel act and murder of justice by Indian government at all international forums.