India asking Pak to create atmosphere of peace is ironic: Aziz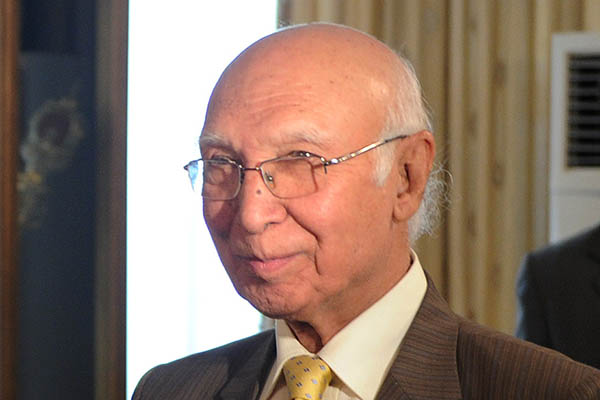 ISLAMABAD, 02 JUNE (DNA) –  Pakistan's top foreign policy official said Tuesday that it was 'ironical' that India was asking Pakistan to create a violence-free atmosphere while New Delhi continues to violate the ceasefire at the Line of Control (LoC) and indulges in human rights violations against helpless Kashmiris.
In a statement issued by the Foreign Office, Sartaj Aziz, the Prime Minister's Adviser on National Security and Foreign Affairs, referred to the recent articulation of Indian policy by Defence Minister Manohar Parrikar as confirming Pakistan's apprehensions regarding Indian involvement in terrorism in Pakistan.
"Pakistan is most affected by terrorism and has sacrificed thousands of lives in its counter-terrorism efforts. Terrorism is thus a common challenge, and fighting this menace requires collective efforts".
Responding to the Indian External Affairs Minister Mrs Shumshma Swaraj's statement Sartaj Aziz said Prime Minister Nawaz Sharif had a vision of improving relations with all neighbours and attended Indian Minister Narendra Modi's oath taking ceremony in this spirit. "The primary objective of this vision is economic development of the region," Aziz said.
Kashmir issue should be resolved through dialogue Mr Aziz reaffirmed that Pakistan's policy was to resolve all issues particularly the dispute of Jammu and Kashmir through dialogue. He added that Pakistan's commitment to dialogue had been conveyed to India. Aziz emphasised that Pakistan believed in sustained, comprehensive and result oriented dialogue.
"Pkistan also believes that the people of Jammu and Kashmir are important stakeholders in the final resolution of the Kashmir dispute since they have yet to exercise their right to self-determination as enshrined in numerous UN Resolutions".
'Families of Samjhota victims still await justice' Speaking about the trial of those alleged to be behind the 2008 Mumbai terrorist attacks, Aziz said that proceedings into the case were progressing in the court of law.
He said that India's concern over slow progress also raises questions India's own reluctance to cooperate by not allowing the Judicial Commission to visit India until September 2013.
Aziz called into question progress in India on the Samjhota Express terrorist incident.
"Pakistan has its concerns too. Information on the trial of Indian Military's active service officers named by the RSS member Swami Aseemanand, who was the mastermind, has not been shared. Scores of Pakistanis lost lives in the Samjhota terrorist incident. Samjhota happened two years earlier than Mumbai attacks. The victims' families are still waiting for delivery of justice," he said.
India told not to interfere in Pakistan-China bilateral relations Responding to a recent comment by his foreign policy counterpart in India Sushma Swaraj that the Pakistan-China Economic Corridor (CPEC) was "not acceptable" to India, Aziz said that he was surprised by her remarks.
"The mega project is all about regional connectivity and economic development and prosperity of the common people of the entire region. There is dichotomy in the Indian statements on their pronouncements on the importance of the regional connectivity for development and their negative comments about CPEC," he said.
Aziz said Pakistan and China enjoy exemplary relations, and urged India not to interfere the bilateral relations between the two countries.
"Pakistan maintains a policy of non-interference in other countries' bilateral relations and expects the same from others to refrain from commenting on Pakistan's bilateral relations with other countries," he said.
He reiterated a statement by a Chinese Foreign Ministry spokesperson saying that CPEC is a major cooperation framework between the two countries and is not against any third party.  DNA