Kashmir an unfinished agenda of partition: COAS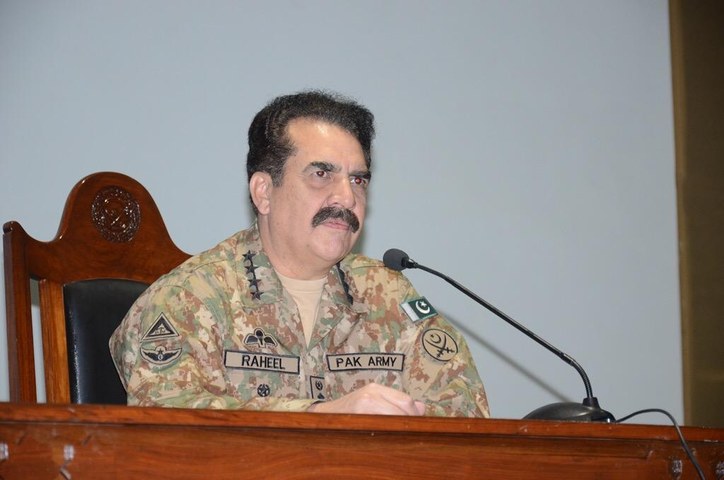 ISLAMABAD: Chief of Army Staff (COAS) General Raheel Sharif said on Wednesday that Pakistan and Kashmir are inseparable, and that Kashmir is "an unfinished agenda of partition".
The statement was tweeted by Director General Inter-Services Public Relations (ISPR) Maj-Gen Asim Bajwa.
Addressing a conference at the National Defense University, the army chief said, "While we wish for peace and stability in region, we want Kashmir's just resolution in the light of United Nations resolutions and as per aspirations of the Kashmiri people to bring lasting peace in region."
General Raheel Sharif further said that contours of future wars are fast changing.
He said, "While our enemies supporting terrorism to stoke sub-conventional conflicts and destabilise our country, we are fully determined, capable of defeating nefarious designs."
"Pakistan is opposed to the use proxies against other countries and won't allow any country to use proxies versus Pakistan," he further said. The army chief's statement follows a flurry of similar assertions that India is involved in stoking terrorism in Pakistan. In recent weeks, the military and civilian leadership have expressed serious concerns of India's "nefarious designs", with top government officials saying India is attempting to sabotage Pakistan's historic $46 billion agreement with China.
The Pakistan Army last month asserted that Indian spy agency Research and Analysis Wing (RAW) is involved in terrorism in Pakistan.
Earlier on Tuesday, Federal Interior Minister Chaudhry Nisarhad also referred to Indian Defence Minister Manohar Parrikar's statement that terrorists had to be neutralised only through terrorists and termed it an open admission that the neighbour was pursuing the policy of state-sponsored terrorism.
"Coupled with the recent statement of the defence minister of India which blatantly and unashamedly accepted responsibility for terrorism in Pakistan, this recent statement of intent by the Indian prime minister clearly shows India's intentions not only to destabilise and hegemonise Pakistan but also to use any means at its disposal to keep Pakistan backward and underdeveloped," he said.
The interior minister said the statement should serve as an eye-opener for all those world powers which never tired praising India for its democratic credentials. "Let the Indian leadership hear loud and clear that Pakistan's quest for peace must not be misconstrued for weakness," he added.
A May 5 conference chaired by Chief of Army Staff General Raheel Sharif at General Headquarters "took serious notice of RAW's involvement in whipping up terrorism in Pakistan".
RAW has quite often been blamed by law-enforcement agencies for being involved in subversive activities in Pakistan, but it's unusual for a corps commanders' conference to directly point fingers at the hostile intelligence outfit.
Earlier this month, Foreign Secretary Aizaz Ahmad Chaudhry said RAW is involved in various terrorist activities across Pakistan, adding that the matter had been taken up "a number of times" at the highest level with India through diplomatic channels.
The government in January decided to take a tougher approach towards India and forcefully raise its concerns over alleged Indian involvement in acts of terrorism in Pakistan.
Successive governments in Pakistan always pointed to the Indian hand in terrorism, more particularly in Balochistan and tribal areas, but did not disclose specific information about the alleged role. That, a senior national security official said, would not be the case anymore.