Imran has to go for the country to progress: Bilawal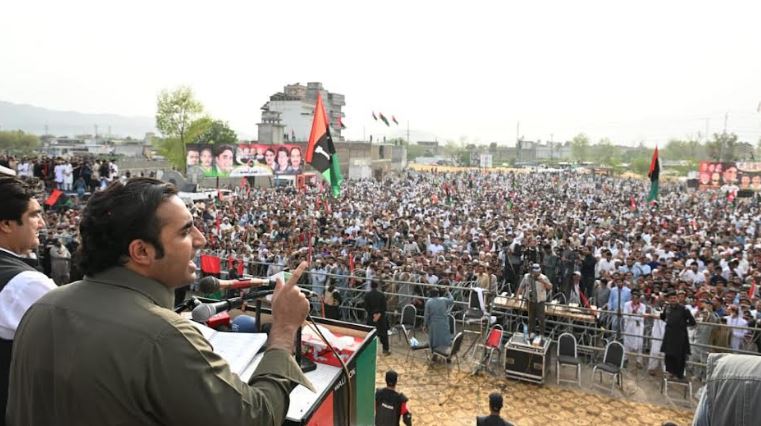 Islamabad, MAR 23 /DNA/ – Imran Khan is an animal and wants the law of the jungle in Pakistan. Imran Khan was imposed on Pakistan to destroy its economy, politics and foreign policy. Imran Khan will be booted out through democratic means.
This was said by the Chairman Pakistan Peoples Party, Bilawal Bhutto Zardari while addressing a charged public rally in Dargai, Malakand in Khyber Pakhtunkhwa. He said that the relation between the people of Malakand district and the PPP goes back three generations.
Quaid-e-Awam established a tax free zone and if anyone tries to take this status of Malakand then the Jiyalas will chase them out. Quaid-e-Awam laid the foundation of edible oil factory and spinning mills in Malakand district. He gave the right of free passport so the people could work from abroad and help their families.
Shaheed Mohtarma Benazir Bhutto provided gas and electricity to the people of this area. She also provided employment, not only to the youth but also women of the area through establishing women banks and police stations.
President Zardari gave an identity to Khyber Pakhtunkhwa and fulfilled the promise of Shaheed Mohtarma Benazir Bhutto by raising the flag of Pakistan in Swat. He made it possible for 2.5 million IDPs to return to their homes in three months with compensation while also striking out utility bills and loans. The treatment of the IDPs after our government has not been in the benefit of the country.
I have come to you once again, since we are combating a tyrant and a barbarian today. We and our Jiyalas have been facing this puppet since the first day. We called him 'selected' in the parliament on the very first day, and that is his identity before the world now. We will face this undemocratic person through democratic means. We will treat the umpire's finger with the thumb by voting. I will not use any undemocratic mean to drive this puppet out. I cannot attack any institution, nor will I go to the court in a black coat. I will not go to Gate no. 4.  Quaid-e-Awam has taught us 'all powers to the people', and I will chase him out with the help of the people. We continuously made efforts for the opposition to be on one page. We laid the foundation for the platform for PDM while ignoring our differences to chase him out through democratic means such as the bye-elections, Senate elections and the no-confidence.
Chairman Bilawal congratulated the Jiyalas and nation on Imran Khan having lost his majority and his government ending. Imran Khan is now the 'former prime minister'. Imran is a coward who is running from a challenge. Imran is a rat. He calls himself 'Khan', how is he a Khan? Khans are brave and courageous. He can only be a Khan of Funny Gala.
We have submitted the no-confidence on 8 March and voting was to take place within seven days, the session had to take place within 14 days as per the constitution. This coward first attacked the parliament lodges and the Sindh House, and has now abrogated the constitution. Now, he is trying for the Speaker to be wrapped up in Article 6.
We challenge Imran Khan to stop running away and escaping and call a session tomorrow. He should try gathering 172 members in the National Assembly. It has been three years and he has nothing better to do than criticise my Urdu as the prime minister. Urdu is our national language and we all want to learn and speak it. Various languages are spoken in this country and we respect each one. Those who speak Pashto, Sindh and Siraiki are just as Pakistani as those who speak Urdu. Imran should teach his own kids Urdu before teaching us.
The language he uses against Maulana Fazlur Rehman is not fit for a prime minister. He can only abuse and that is the sign of a defeated man. He cannot see the increase in prices of petrol and diesel during his tenure. The nation wants for the prime minister to focus on inflation which used to be a priority during PPP's cabinet meetings while in power. He prioritizes abusive language over inflation. Imran accuses Shehbaz Sharif of polishing boots when he himself has polished to the extent that no polish is left.
Imran abuses with the same tongue that he uses to talk about Riasat-e-Madina. The state of Madinah was based on justice and morals. How can this be Riasat-e-Madina when Imran's state is running on abuses and magic while being anti-people. The farmer and labourer are sleeping on an empty stomach in his tenure. This man has been sent to destroy Pakistan as per a scheme. It was a scheme to send this man to ruin the economic and foreign policies. How can he come to Malakand and say that the foreign policy of India is successful while being the prime minister? If India's foreign policy is to ruin the CPEC, this man successfully did so. If this is India's policy, it is his policy too. He made his ministers talk negatively about the CPEC. He talks of schemes and plots while being the biggest one himself. He cannot even give an answer to the foreign-funding case. It has been proven that he obtained funds from Israel and India.
Bowing to the IMF and weakening Pakistan before the world is Imran's conspiracy against the country. What greater foreign conspiracy is there than Imran campaigning for Modi in the Indian elections while being a prime minister? He used to say that Modi winning would benefit the Kashmir cause. 'No compromise on Kashmir' is every Pakistani's slogan.
Chairman PPP reassured the Pakistani nation of getting rid of this curse, Imran soon. I will come to you again.
We have been hearing him talk of corruption since a long time. Three years of the federal government have passed and eight years in KP. He refuses to answer quesbvtions about his own corruption. His father was sacked by the Quaid-e-Awam on corruption and that is why he accuses all others of corruption. He does not answer the questions raised over the billions of rupees' worth of buildings bought by Aleema Khan. He has nothing to say about the money which is taken on posting goes in Punjab and who is benefitted. Now, he has tried to attack institutions. He wants every institution to be like his tiger force. The people of Pakistan demand free and transparent elections. We will not let the no-confidence motion be rigged. This is a test for the federation of Pakistan and neutrality. We demand that the no-confidence should be completed constitutionally. Imran Khan has lost every bye-election and local government elections. Imran Khan has to go for the country to progress.