Imran accuses PM of defaming Pak Army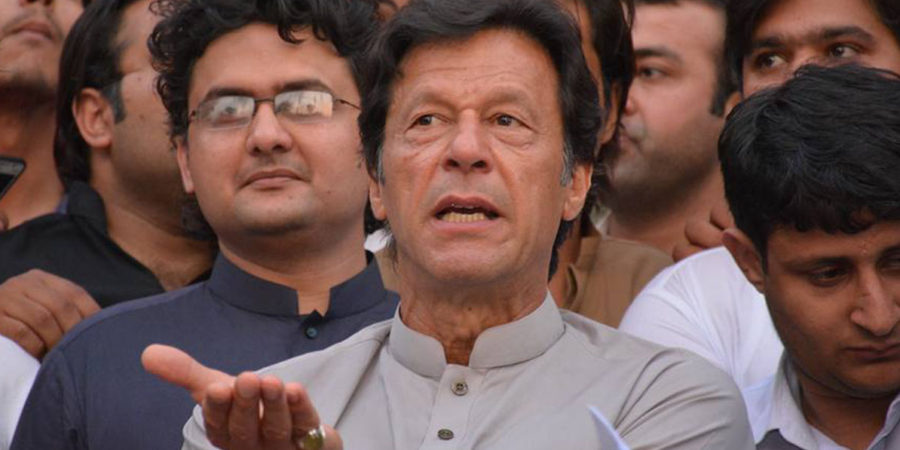 LAHORE, 30 APR, (DNA) – Pakistan Tehreek-e-Insaf (PTI) Chairman Imran Khan on Saturday endorsed Pakistan People's Party (PPP) Chairman Bilawal Bhutto Zardari's called for Prime Minister Nawaz Sharif's resignation till completion of probe into Panama Papers revelations.
Imran Khan also alleged that Prime Minister Nawaz Sharif is defaming Pakistan army, adding that if the PM is not involved in any wrongdoings then he needs to tell the truth to the people.
Talking to media after a party meeting here, Imran said that it is the responsibility of Nawaz Sharif to respond to the allegations being leveled against him.
The meeting of PTI's top leadership was held in Lahore on Saturday and was led by Imran Khan; announcement regarding the party's delegation to participate in the opposition's joint meeting to be held on May 2 was made after the party's meeting concluded.
The delegation includes Jahangir Tareen, Shah Mehmood Qureshi, Asad Umar, Arif Alvi and Hamid Khan.
While addressing the media after the meeting, Imran Khan said that democracy in its true spirit will only prevail in the country after transparent elections take place. He said that PM Nawaz Sharif considers democracy as monarchy.
Khan seconded Pakistan Peoples Party (PPP) Bilawal Bhutto's statement that the PM has no moral authority to stay as the country's Prime Minister any longer.
He accused the PM of defaming the army and stated that if the PM is not involved in any wrongdoing then he must tell the truth before the people. He said that Mian saab makes an innocent face whilst attempting to look like an oppressed person.
Khan stated that United Kingdom's (UK) PM David Cameron did not accuse his opposition in regards to the Panama Leaks instead he had to clarify his position. He said that when the PM was inquired about the Leaks, he headed towards Mansehra to attend a rally.
PTI Chairman said that, in a democratic setup it is his right to question the authorities. He added that the Panama Papers have caused an upheaval around the globe and that it is his right to question the rulers if the public's money is not being spent in the correct manner.
"Will give Nawaz Sharif one chance, he will have to give answers this time; as long as he does not provide any answers, the movement will continue", Imran said.
While answering to a question related to the party's rally to be held in Lahore tomorrow (May 1), Khan said that the rally will be a spectacular one, adding that there shall not be any security threat other than that from PM Nawaz. "Nawaz Sharif knows that he can convince all the opposition (parties), not Imran", he said.
Prior to this, Khan conversed with the media in Bani Gala and stated that the Prime Minister should inform about the sources through which he was able to send money abroad, adding that organising rallies will not save him from investigation.
He said that the taxes paid by the public are being spent on organising rallies and doing propaganda and he announced that he shall turn to the National Accountability Bureau (NAB) and the courts in this regards.
He said that they would hold a historic public rally in Lahore on Sunday. =DNA
===========