IIA delegation meets Finance Minister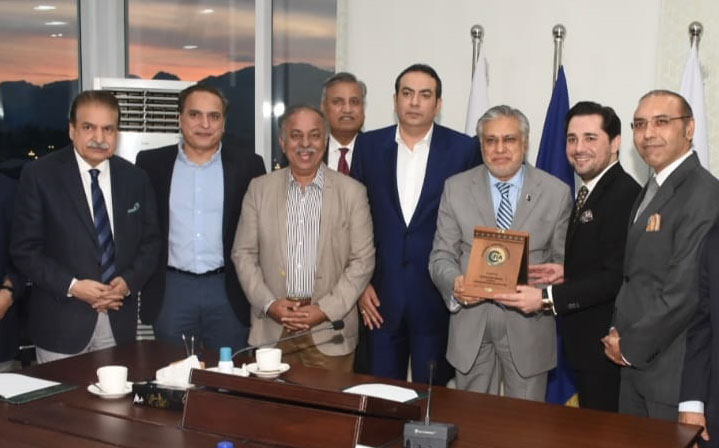 DNA
ISLAMABAD: Federal Minister for Finance and Revenue Senator Mohammad Ishaq Dar held a meeting with delegation from Islamabad Industrial Association led by its President Mr. Mohammad Ahmad on Budget 2023-24 proposals at FBR (Hqrs), today.
SAPM on Finance Mr. Tariq Bajwa, SAPM on Revenue Mr. Tariq Mehmood Pasha, Chairman RRMC Mr. Ashfaq Yousif Tola, Chairman FBR, and senior officers from FBR attended the meeting.
The delegation thanked the Finance Minister for inviting the budgetary proposals from business community. They discussed the current economic situation of the country with the Finance Minister and informed him about the issues being faced by them particularly related to taxation. The delegation also presented their proposals to address those issues through the upcoming budget 2023-24. They also guaranteed the Finance Minister of their continuous assistance to the Government for economic development.
Finance Minister Senator Mohammad Ishaq Dar appreciated the budgetary proposals of the delegation and expressed the resolve of the government in overcoming the issues being faced by the business community to ensure the economic growth of the country. He also assured the business leaders that Government will provide all possible assistance to the business community for the economic stability and growth by bringing forward a business and people friendly budget for Fiscal Year 2023-24.
The delegation thanked the Finance Minister for considering their budget proposals.
The delegation included President IIA , Muhammad Ahmed Waheed , Mr. Usman Shaukat, Mr. Tariq Siddiq, Malik Sohail Hussain, Mian Akram Farid, Mr. Zakria A Zia, Mr. Atif Akram Shaikh, Mr. Waheed uddin, Shaikh Amir Waheed, Mr. Nasir Qureshi, Mian Shaukat Masud and other.