Hashoo Group eager to support Formula Electric Racing-NUST as their Outreach Partner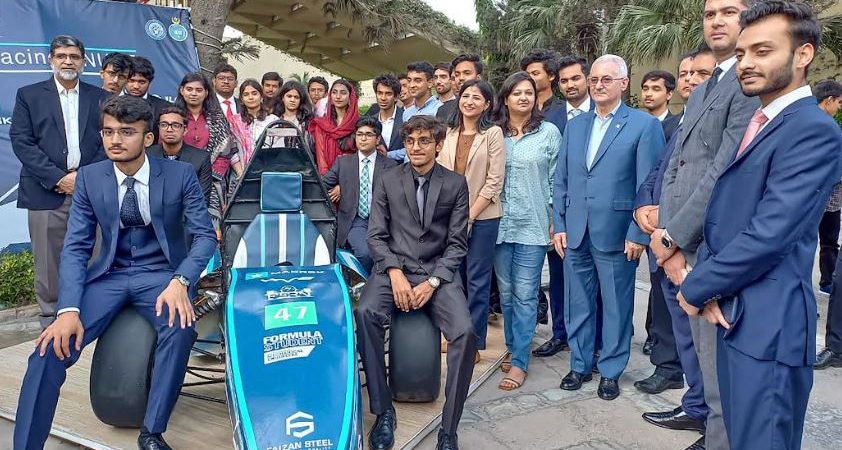 ISLAMABAD, MAY 20 /DNA/ – Team Formula Electric Racing NUST, a formula student team from Pakistan Navy Engineering College a constituent college of National University of Science and Technology, will host the unveiling ceremony of its fourth Electric vehicle on 15th May 22.
The event is in collaboration with Hashoo Group, a conglomerate whose vision of sustainable environment align with our ultimate goal. Hashoo Group firmly believes in supporting youth and hence are eager to support Formula Electric Racing -NUST as their Outreach Partner.
Hashoo Group is the leading hospitality giant of Pakistan, since the past five decades. With a portfolio of branded hotels that span over the entire country, they aim to ensure their business strategies are sustainable and environmentally friendly.
Along with this, Hashoo Group strongly feels that the young generation of Pakistan should be equipped with the right knowledge and opportunities that will help them excel and grow and make Pakistan proud. We thank Hashoo Group for their extended support, cooperation, and participation in this event to make it a success.
The team began in 2015 from a solar car competition in Cyprus and is now registered for the Formula Student UK 22 competition scheduled for 6 – 10th of July at the Silverstone Circuit. Team FERN will compete in the Electric and Driverless Vehicle Category and will become the first team from Pakistan to do both. The team's vision is to prepare individuals who will assist in the shift from conventional combustion vehicles to electric vehicles.
Since its inception, the team has had an upward trajectory, from being the first electric team from Pakistan at Formula Society of Automotive Engineers to winning a podium at Formula Student Russia in August 2021. Founded eight years ago in 2014 by a group of high-spirited engineering students, Formula Electric Racing – NUST is a team that manufactures Electric Vehicles to compete in international student competitions.
The team is currently based at NUST, in Karachi, Pakistan.Formula Electric Racing – NUST has come a long way from its solar origins to the current behemoth of a team it has become. When it came into being, only 25 teams were making Electric Vehicles worldwide, showing that this team is truly among the pioneers of sustainable motorsport. The team has managed to trump up three Electric Vehicles, one solar car, and a fourth Electric Vehicle, which is being fabricated for Formula Student UK 2022.
From the start, Formula Electric Racing – NUST has been championing sustainability. The basis of its foundation stands on three core principles; to create a pool of talented engineers experienced in electric automation, promote sustainable locomotion in the Pakistani industry and advance Pakistan's soft image all over the world. The best way to do this was to participate in Formula Student UK, one of the world's foremost Formula Student competitions, which thoroughly judges the entire vehicle concept, the business plan, and cost and manufacturing decisions. Teams from all over the globe come to compete at the highest level of student engineering competition, which makes for an exhilarating and informative experience of the highest level.
To add to the list of Formula Electric Racing – NUST's firsts, the design of Pakistan's first Driverless Vehicle is also underway and is set to be presented at Formula Student UK 2022. The team has competed in 5 Formula Student competitions so far and has improved on each season's finish culminating in the first-ever podium finish for a Pakistani team in any Formula Student event in Formula Student Russia 2021.
While praising the team's overall management, the judge at Formula Student Russia mentioned that the teams usually don't have an organised structure which makes things difficult for them.However, in case of NUST, everything is very wellorganised, and the team has a clear idea of their goals.
This makes it worth mentioning that the season 2020-2021 was of great success for the team, participating in multiple competitions and numerous accolades raining down on the team. The competitions were Formula Student UK 2021 and Formula Student Russia (FSR) 2021. The team secured the third position in the Engineering Design Event at Formula Student UK 21 and overall stood 18th among 65 + teams. In FSR, the team came second in all individual events with an overall finish of second in the EV category.
Excerpt from FSUK 21 judges' remarks: You guys are fairly on the right track. The spirit is much appreciated given the constraints the team have. These constraints inherent to the team's location will always create obstacles to delivering a competitive Electric Vehicle but on the brighter side, it's always refreshing to see zealous students turning adversities into opportunities and trying to make an impact.
Testing is underway on the fourth Electric Vehicle and Driverless Vehicle prototype, and the team's preparations for this season's Formula Student UK are in full swing. With an ever-growing team of 50 enthusiasts working day and night to represent Pakistan positively on international platforms, the team is adamant that this year's experience at the competition will be truly electrifying. Formula Electric Racing-NUST is aiming, now more than ever, to return triumphant and reignite the spirit of being a true Pakistani in the industry. The team, on its journey to achieve the unprecedented, is leaving no stone unturned and hopes to be the force to create a better, brighter, and greener Pakistan.
Technical achievements and laurels aside, Formula Electric Racing – NUST has long had a policy of giving back to society wherever possible. From campaigns to help with the task of nourishing and educating underprivileged, at-risk children to massive cleanup and plantation drives, the duty the team has which is to benefit society in every way are being continuously fulfilled.
Some notable efforts among uncountable others include a collaboration with PeaceSeekers to assist the destitute during the COVID-19 pandemic; FISSION – a virtual science fair for students to showcase their pet projects, providing them with an opportunity to implement learnings from online classrooms and working with The Citizens Foundation to impress upon young female pupils the opportunities and advantages of pursuing a career in a STEM field, which they are generally discouraged from doing. As a matter of fact, the importance Formula Electric Racing – NUST places with regards to the complete equity of opportunity and its firm stance against discrimination of any kind. Some of the foremost team members and alumni are female, with special emphasis placed on this in all events organised by the team in various schools and colleges. During the second year of the Covid -19 pandemic, the team initiated an insightful podcast series – FERN TALKS. This was a virtual platform for speakers covering many pressing issueslike quality education,innovation and climate change. The speakers for this series were notable personalities from the industry like Dr Naweed Syed, Ms Afia Salam and Ms Aliza Ayaz.