Govt to launch FSP to provide relief to common man: Farrukh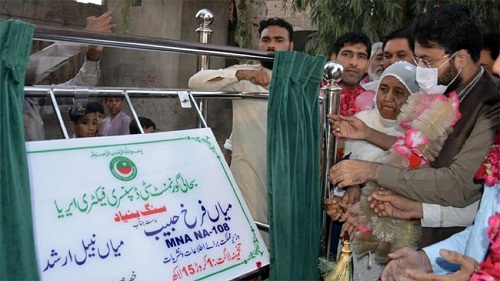 Faisalabad : Minister of State for Information and Broadcasting Farrukh Habib says the government is going to launch 'Food Support Programme' for low income groups soon to provide targeted subsidy through Ration Cards.
Addressing a public gathering after inauguration of different uplift schemes in Faisalabad, he said the PTI government believes in practical measures and improving the living standard of people instead of raising hollow slogans.
Farrukh Habib said the PTI government has taken an unprecedented initiative to materialize the dream of the common man of having his own house, land and roof.
He said no big dam was constructed by past governments since 1967, but PTI government is constructing 10 new dams including Diamer, Bhasha, Mohmand and Dasu Hydropower Projects.
He said 10,000 megawatt cheap electricity would be generated in the country after completion of these dams.
Farrukh Habib said all sectors in the country including automobile, cement, engineering, construction and energy are flourishing and economy is strengthening.